Published on: December 22nd, 2019
Learning about homeostasis was one of the most pivotal moments of "my ADHD life."
This is because learning about homeostasis helped me understand the underlying reasons for imaginary mental pain.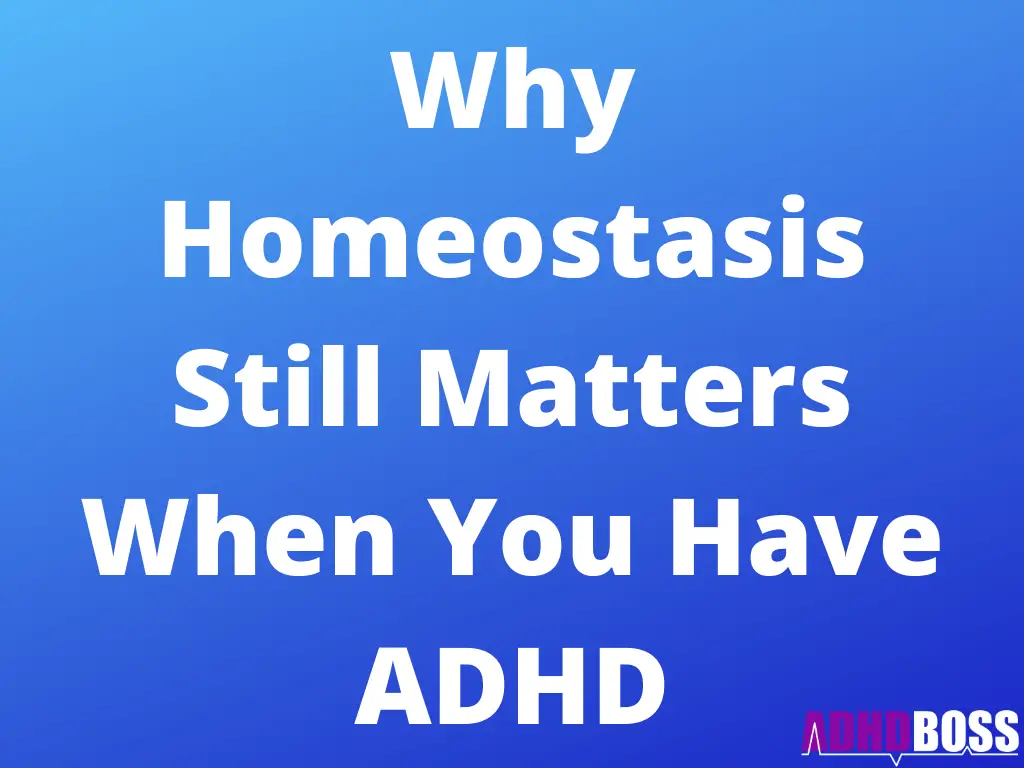 Once you understand that 99% of life's mental pain is actually harmless (it's literally just mental) you realize that you are in fact capable of achieving your life's vision.
Most people cannot handle mental pain. This is why people, especially in the Western world, are quick to shy away from uncomfortable situations.
Here's the #1 most important concept you need to understand regarding homeostasis:
Your brain is constantly trying to prevent you from expending energy
Did you know your brain is "ancient" and hasn't adapted to modern times?
It's true.
Your brain is constantly trying to convince you that you need to conserve energy in order to survive.
This was once an extremely important survival mechanism, when ancient humans actually had to conserve energy in order to survive. 
There was once a time when food and water were genuinely scarce, which caused human brains to adapt to this constant scarcity of resources. And guess what? 
You still have this same exact type of brain.
We all do.
Your brain still operates using pre-historic "technology" that was once useful millions of years ago. But not so much today.
This is extremely detrimental to anyone who needs to function at a high level in modern day society.
Modern day society is quite competitive and energy-intensive.
In today's modern society, we all must expend an abundance of energy to ensure our survival
Unfortunately, our brains are constantly fighting against our need to expend energy in modern day society. 
This is homeostasis in a nutshell.
Just to recap:
Your brain is ancient. It's wired to conserve energy no matter what happens. But modern day society demands that you constantly expend energy.
This creates a constant mental conflict that most people are totally unaware of.
Homeostasis is that little jolt of mental pain that you experience when you think about writing an article.
Homeostasis is the mental discomfort you feel when you know that you're going to have an uncomfortable conversation with a family member.
Even if a certain activity is advantageous to your long-term success and well-being, your brain automatically wants to stop you from performing that activity.
Your brain's only priority is to prevent you from wasting energy. 
On ADHD Boss, we often write about how you actually have an abundance of energy available.
You actually have more than enough energy to achieve your life's vision, as long as you use your energy wisely.
So we know you aren't lacking anything…
You already have all the resources you need to achieve your life's vision

Or at the very least, the resources that you need are located very close by, and you just have to go and get those resources.
Your brain isn't able to comprehend this on an instinctual level, because your brain hasn't adapted with the modern times.
Your brain is still stuck in the past, and is constantly sending you signals to stop you from achieving your life's vision.
Your brain is literally attempting to sabotage your success
The vast majority of people on this planet are totally unaware of homeostasis.
By acknowledging homeostasis, you are equipped with yet another enormous advantage in life.
You can finally recognize that homeostasis is totally harmless, because you're actually capable of handling far more mental pain, stress and uncertainty than you think.
The human mind and body are incredibly resilient. 
It's just that most people immediately submit to homeostasis. This is because almost no one knows what homeostasis is, or understands that it's harmless.
In order to defeat homeostasis, you have to constantly train your brain to push past all forms of mental pain all the time.
Revisiting homeostasis vs. ADHD
Homeostasis is a recurring topic on ADHD Boss.
I've published numerous articles about homeostasis and even a book review about homeostasis.
While homeostasis is an incredibly important topic for people with ADHD to understand, homeostasis is ultimately different from ADHD.
Homeostasis is your brain's way of limiting the amount of energy that you expend across all of your life's activities and pursuits.
Homeostasis doesn't judge.
It just wants to stop you from expending energy.
On the other hand, ADHD makes it extremely difficult to focus on activities that don't trigger enough dopamine in your ADHD brain. 
ADHD can actually help you expend energy in certain cases, as long as you're living a life that excites you, and is in alignment with your life's vision.
When you have ADHD, you have to optimize your life around creative, exciting, dopamine-producing activities.
ADHD pulls you closer towards dopamine-producing activities, while homeostasis is just an all-around damper on all aspects of modern day life.
You have to treat homeostasis and ADHD as two separate challenges, because they are different…
The entire ADHD Boss website is designed to help you "win at life" when you have ADHD. So you will have this covered if you continue to read ADHDBoss.com…
Handling homeostasis mostly comes down to becoming aware of the mental pain that you encounter in your everyday life, and constantly pushing past the mental pain that you encounter. Then rinse and repeat.
The idea is to constantly push the limits of how much mental pain you can handle. Because this will only make you stronger.
The more mental pain you can handle, the easier it will be to defeat homeostasis on a regular basis.
Best of all, people will start to assume you're some kind of superhuman.
There's a direct correlation between conquering homeostasis and living a really good life.
This has been proven time and time again by people who have managed to accomplish incredible feats.
Richard Branson spent a bunch of money renting an entire airplane before he knew if people would actually buy tickets to fly on his airplane. This was obviously a well-calculated risk, because it ultimately worked out for him. This is how Virgin Airlines was started. But it was still a mentally painful risk to take. What if Branson rented an airplane, and no one bought tickets?
Elon Musk could have retired forever after selling PayPal and earning a fortune. But Musk chose to launch a space exploration company and an electric vehicle company around the same time. This almost caused both of Musk's businesses to fail, because Musk took on so much mental pain and pressure around the same time. But Musk ultimately chose the more painful path in life, and it seems to be working for him so far. Only time will tell.
Taking the more painful path in life usually leads to the most rewards and least regrets later in life.
Follow the mental pain, and set yourself free.
Action steps
Acknowledge homeostasis as one of your brain's automatic survival mechanisms that "kicks in" whenever you must exert energy for a sustained period of time 
Understand that 99% of your mental pain in life is actually just homeostasis (homeostasis is harmless)
Start training your brain to work through the mental pain of homeostasis rather than submit to the mental pain associated with homeostasis
Know that ADHD will always be a challenge you must overcome in life as well, however it is possible to use your ADHD to your advantage, if you can align your everyday actions with your life's vision