Last updated: November 27th, 2019
Hi and welcome to the ADHD Boss website.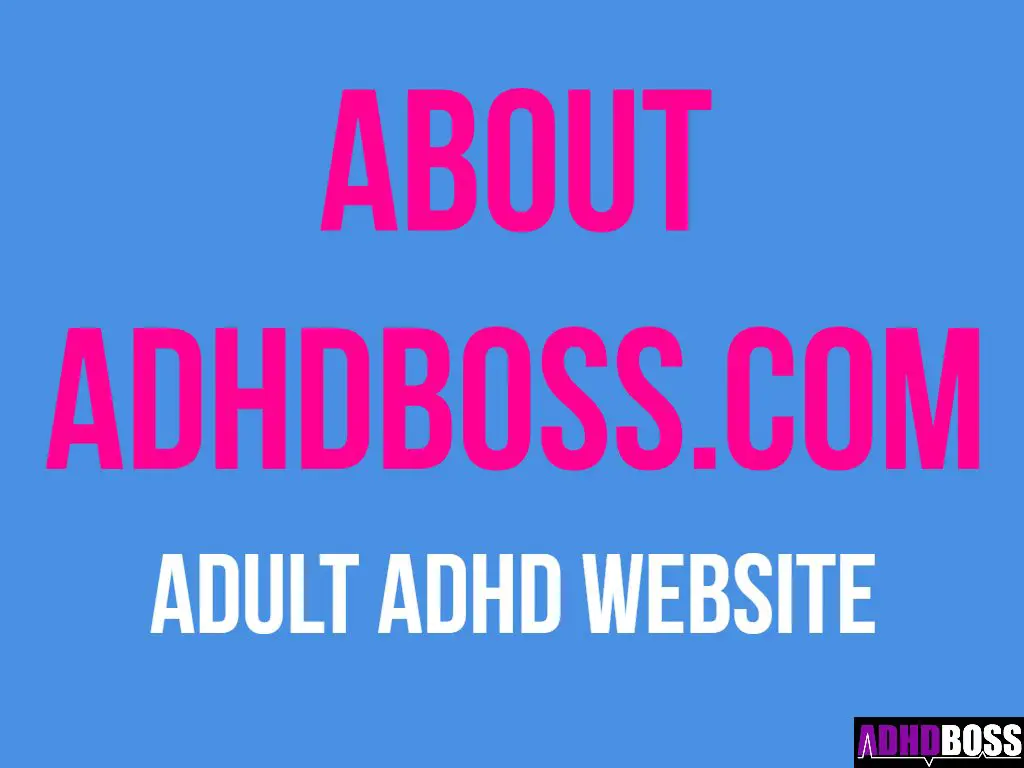 I'm Stefan Taylor, the founder of ADHD Boss.
I've been through every stage of living with Attention Deficit Hyperactivity Disorder, or ADHD.
I've experienced all of the risk-taking behavior, impulsiveness, and challenges that come with the condition.
From being the rebellious class clown in school, to not understanding why I struggled so much academically (but only in certain classes), to finally being diagnosed with Adult ADHD in my twenties.
I've been through it all!
But lately, I've been in an incredible upward spiral in life. Life has been really good to me over these past few years.
This is mostly because I've finally figured out a formula for living really well with ADHD. I want to share this winning formula with you.
The ADHD Boss formula has nothing to do with blaming you for your past mistakes, making you feel guilty about using ADHD medication, or rationalizing ADHD away like it's just no big deal.
Instead, I just want to give you the raw truth about what actually works for living a good life with ADHD (and what doesn't).
How to Benefit From Reading The ADHD Boss Website
The goal of this website is to take you step-by-step through the real-world of living with Adult ADHD.
I don't have all the answers.
But, I do have loads of real-life experience with ADHD that will help you avoid unnecessary pain, tackle the good (growth-oriented) pain, and save you hundreds of hours of time.
My advice might seem a little bit hardcore at times.
But, I promise that I do this out of love for the ADHD community.
If you read this website with the understanding that I don't hold anything back, you'll take away lots of value from it.
ADHD Boss is a long-term vision of mine, and it will be based on truth. No exceptions.
Who Is ADHD Boss?
I never thought that I'd be writing content full-time, with a vision for helping millions of people with ADHD.
But, I've received overwhelmingly positive feedback from readers of ADHD Boss.
So I'd feel pretty guilty if I kept all of my losses, wins, and experiences to myself. I have plenty of value to share with you.
Here's a little bit about me:
I'm in my late twenties.
I'm a writer, ADHD researcher, and health & relationship enthusiast.
(I've spent hundreds of hours studying medical literature in the ADHD field. ADHD has become an enormous part of my life).
I graduated from Oklahoma State University in 2015. I attended college for 5.5 years. It took me a pretty long time to graduate.
I even dropped out of college twice. Once, because I was pledging a fraternity and had some addictions to partying challenges with alcohol. I dropped out of college a second time because I was pretty lost for one semester.
One time, I even considered dropping out of college permanently.
But I spoke with a stranger who convinced me to stay in college and graduate. I'm still in touch with the guy to this day.
I eventually graduated from college with a Bachelor of Science in Business Administration, with a focus in Entrepreneurship.
(I've since learned that quitting is a habit, and you should exercise extreme caution before you quit at anything).
Overall, I made pretty bad grades in college for the most part. I just couldn't force myself to be interested in most of my classes.
But luckily, I was obsessed with every single entrepreneurship class that I ever took in college (I made A's in all of my entrepreneurship classes).
I also managed to get the best entrepreneurship internship at my university, even with a terrible GPA. I interned at an amazing mobile app start-up incubator.
(This taught me that having relentless drive and resilience is far more important than your college GPA).
My obsession with entrepreneurship led me to wonder how I could make terrible grades in classes like Algebra and Accounting, and straight A's in classes like Social Entrepreneurship, Imagination, Philosophy, Venture Capital and similar creativity-oriented classes.
I still wonder about why I've always wanted to create things for a living.
Is entrepreneurship a way for people with ADHD to exert control over a life that has largely lacked control?
Is entrepreneurship mostly about proving something to yourself and other people?
Is entrepreneurship a way to design a lifestyle that works with your dysfunctional habits?
Is entrepreneurship a way to help other people who are in pain?
The answer probably lies somewhere in the realm of "all of the above"…
But, I still had plenty of questions that needed answers.
This led me to meet with an ADHD specialist in college, when I was struggling hard with passing an accounting course. I was confused about how I could perform so well in certain classes, and totally fail at the classes that I wasn't interested in.
Most importantly, I told her about everything leading up to that point in my life:
The constant daydreaming in school (but only in certain classes)
Forgetting to turn in my assignments on time
Constantly getting into trouble / breaking the rules
Always being late to everything
Growing up as a rebellious kid (always sneaking out of the house at night)
Being unable to sit still for very long
Experimenting with drugs and alcohol in high school (self-medicating)
After telling my physician all of my life's secrets, she ultimately diagnosed me with Adult ADHD.
I had always assumed that I had ADHD.
But it was the official diagnosis, and learning about ADHD that changed my life forever…
How Learning About ADHD Changed My Life Forever
Learning about ADHD changed everything for me.
I mean that in the sincerest way possible.
Once you understand that the ADHD brain is deprived of dopamine, you start to realize why you make impulsive decisions, abuse caffeine, start trouble, and constantly seek out new sources of stimulation.
Most people with ADHD are just looking for the next thrill, so that we can satisfy our dopamine-deprived brains, and then repeat the vicious cycle all over again.
So, learning about ADHD helps you make so much sense of your entire life. This is a really beautiful thing.
But, what about the future?
How does learning about ADHD impact your future outcomes?
Well, this is where things get pretty interesting. Because once you know that you have ADHD, you can pretty much forget about the past.
If you can master your ADHD, the future becomes yours.
Remember how I realized that I was pretty good at some school classes (like entrepreneurship classes) and really bad at mandatory school classes (like accounting)?
It turns out that following your strengths is a natural coping mechanism for people with ADHD.
When you have ADHD, you have to focus on doing the things that you're really good at, if you want to achieve the best results for your life.
If you can pursue your strengths, then you can also tap into hyperfocus, and possibly even gain an unfair advantage as a result of your ADHD.
To put it simply, having ADHD works against you when it comes to things like mandatory school classes, uninteresting career paths, and monotonous chores. If you have ADHD, and you feel like you're forced to do something that you don't like, then you're just going to rebel against it.
On the flip side, your ADHD can be channeled to your advantage when it comes to things like building creative businesses, developing artistic talents, working in high-pressure careers (like sales), playing sports, pursuing passion projects, and thriving in chaotic environments.
People with ADHD don't always see the opportunities that can be leveraged as a result of having ADHD.
This typically happens because people with ADHD have to genuinely want to do something in order to do it. You have to create an authentic vision for your life, and then build the systems that lead you towards your life's vision.
In other words, you need big rewards that incentivize you to take action every day. This is how you give your ADHD brain the dopamine that it craves. This is also the reason why many celebrities with ADHD are driven to accomplish such bold and amazing feats. There are some surprisingly ambitious people with ADHD who have proven that ADHD doesn't always have to be a limiting factor in your life. Once you figure out what drives you, your ADHD can be channeled in extremely productive ways.
So, here's the bottom line:
Learning about ADHD has enabled me to wake up feeling excited on most days. Now, I eliminate weaknesses that don't work with my ADHD (like boring school classes), and focus on the benefits that come with having ADHD (like creativity) as much as possible.
And here's the best part:
I'm convinced that anyone with ADHD can live an exciting, successful, and happy lifestyle too.
I don't do anything special. I made bad grades in school. And yet, I wake up excited every morning to live my life to the fullest, even while knowing that ADHD creates challenges for me.
The key is to educate yourself about ADHD, know exactly what it takes to get motivated when you have ADHD, and don't compromise when it comes to your life.
You can live the life that you imagine. Even while dealing with the challenges of ADHD. This website exists to help you overcome the challenges that you face on your journey.
What ADHD Boss Is Not
I am not a doctor or medical professional.
Please don't anything found on this website as medical advice.
ADHD Boss is intended for entertainment purposes first and foremost.
Please consult with an experienced medical professional before making any changes to your diet, exercise routine, or medication regimen.
I'm just a real person who has developed a number of strategies for making the most of the one life that we have the pleasure of sharing.
So, let's learn how to make the most of living with ADHD together.
Fun Facts About ADHD Boss
I'm from New Orleans, Louisiana.
I lived on Louisiana's Northshore until I was 15 years old. My childhood was magical for the most part.
I was in the 'gifted program' throughout all of middle school and junior high, even though I literally couldn't follow along in math class (no matter how hard I tried).
But, I still loved writing, reading, creating stories, and interacting with the other 'gifted kids'. This was a really amazing program. But, it also created a pretty big social divide between the 'normal kids' and the 'gifted kids'.
I moved to Dallas, Texas when I was 15 years old. This was a huge shock to me, because of the major cultural difference between New Orleans and Dallas. New Orleans is super laid back, easy going, and casual. Dallas is formal, business-oriented, and forward-thinking.
I actually prefer New Orleans because of the laid-back people and fun party culture. But at the same time, I appreciate the drive and personal growth that comes with living in Dallas. Some people refer to Dallas as 'the Los Angeles of the South'. Dallas feels too superficial to me.
I had a nearly perfect high school experience. I played competitive club soccer while in high school, and this gave me a healthy outlet for ADHD. I had plenty of great friends, fun, and relationships.
Because I went to high school in a mostly upper middle class city, almost everyone at my school (rich kids) experimented with drugs and alcohol. I used drugs as an escape, and this is probably the only thing that I regret about my high school experience. Using drugs was probably a way for me to self-medicate my ADHD.
One time in high school, I tried a friend's Ritalin, expecting to get a stimulant-like buzz. But the Ritalin actually calmed me down, and allowed me to focus on my work during the school day.
I was a member of a fraternity at Oklahoma State University. I never had a brother growing up, so I always wondered what it would be like to have an older brother. Joining a fraternity was one of the best decisions that I made. It instantly improved my social life, and gave me a massive network of friends to reach out to.
My college experience was crazy because I dropped out twice, had some major issues with alcohol, and somehow still managed to make a "comeback" by getting into the best entrepreneurship internship at my university and ultimately finding the life path I'd always wanted to take.
Resilience can carry you through almost anything in life.
After graduating from college, I did freelance copywriting work for a couple of years. I was really good at my job, but I hated working for clients.
I always wanted to build something of my own that would actually help people.
Today, my life is surprisingly good. I wake up when I want, live where I want, and do what I want. ADHD Boss covers my basic living expenses. But most importantly, I'm committed to helping many more people with ADHD. I want to continue making ADHD Boss an even better experience for you.
The truth is that I want more people with ADHD to achieve success and live the best life possible, so that we can all spread awareness about ADHD, and help each other. I learn just as much from my readers as my readers learn from me.
My Thoughts On Using ADHD Medication
I've used ADHD medication before with great success.
At one point the ADHD Boss website was basically kicked offline because I didn't renew my web hosting service.
After being prescribed ADHD medication I got the ADHD website back up and running and everything was great afterwards.
If I hadn't taken Vyvanse for a period of time, ADHD Boss wouldn't exist today, and my life would be entirely different (in the not-so-good way).
My advice is to use ADHD medication situationally based on your current stage in life.
If you're going through an extremely challenging time in life, ADHD medication could be what you need to carry you through the hard times.
If your life is already going according to plan, then you're good!
As of 2019, I personally no longer take ADHD medication because I'm a writer and like to stay creative. But you should ultimately do whatever works for you!
ADHDBoss.com is a platform for sharing truthful recommendations, so you need to do whatever works for you based on where you're currently at in your life!
My Thoughts On Using Natural Remedies for ADHD
Natural remedies are an extremely important aspect of improving your lifestyle when you're dealing with ADHD.
Everything from improving your sleep routine, to eating a healthy diet, to exercising makes a HUGE difference when you have ADHD.
Optimizing your sleep, diet, and exercise regimen will probably account for 90% of your success if you're focused on managing your ADHD naturally. So, I always tell people to focus on these three fundamentals first before doing anything else.
Once you've perfected your sleep, diet, and exercise regimen, then you might go on to experiment with fish oil, coffee, black seed oil, and various other natural remedies for ADHD.
If you're at a more "advanced" stage of your journey with ADHD, then you might also try meditating, eliminating harmful ingredients from your diet, building high-quality relationships with people, creating exciting experiences for your life, and knocking items off your ADHD bucket list.
There are so many things that you can do to live a better life with ADHD, and that's largely what this website is about. Helping you live really well with ADHD.