Published on: December 22nd, 2019
ADHD medication is one of those topics that most people flock to as soon as they find out they have ADHD.
In my own life, ADHD medication provided me with a tremendous tool that I've used to the fullest extent possible.
I'm adamant about the fact that ADHDBoss.com would not exist today if I hadn't used ADHD medication for a period of time in my life.
In my life, I've gone through multiple periods of using ADHD medication and not using ADHD medication.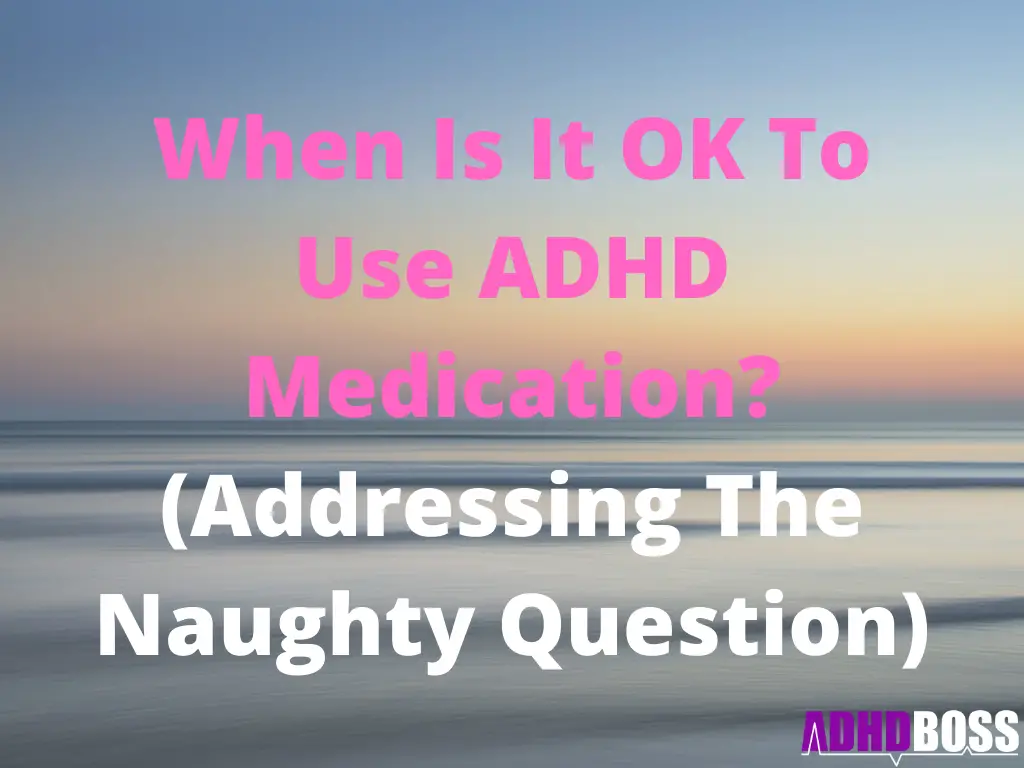 Using ADHD medication situationally has always worked best for me.
Some people prefer to take ADHD medication permanently, every single day.
Or not at all.
There's no right or wrong answer here.
This is about doing what works best for you, in alignment with your life's vision, and with the help of a medical professional who can work with you more personally.
For now, I can speak to the value of using ADHD medication when it matters most: during extremely difficult periods of your life.
There's a reason why professional athletes, white collar workers, politicians and millions of ordinary people take ADHD medication. 
It works, and it works well.
I used ADHD medication throughout most of 2017 when I was building the foundation of ADHD Boss.
Then I stopped taking ADHD medication in 2018, because I decided to take a bit of time off, travel the world, and go on an adventure.
After spending most of 2017 standing in a room and staring at a laptop for 60+ hours per week, I was ready to grant myself a "sabbatical" and work on my personal life for a little while.
In 2017, my life was intense, hectic and loaded with non-stop work.
I used ADHD medication for an entire year to focus on building my website.
In 2018, my life totally changed. I no longer needed ADHD medication because I started traveling the world, and I only needed to work sporadically.
These days, I might use ADHD medication for half the year. I'll spend 6 months of the year working intensely. And I'll spend the next 6 months traveling or doing more creative work which doesn't require ADHD medication.
I have no "set plans" when it comes to ADHD medication. I'm just doing what currently works best for my life, which means using ADHD medication when I have to work and perform at a high level, and not using ADHD medication whenever I don't have to work and perform at a high level.
You ultimately have to develop an ADHD medication routine that works best for your lifestyle.
Many people with ADHD take ADHD medication daily, by the way, and I believe that's a much better option than many of the alternatives out there.
If you have ADHD, there's absolutely nothing wrong with using ADHD medication or not using ADHD medication. That's my opinion and I'm sure some people will disagree. 
But that is my belief which reflects what has always worked best for me personally.
Which Life Stage Are You In?
People typically use ADHD medication because they believe it will provide a significant benefit to their life.
Most of the time, these people are right.
Life is difficult enough as it is. 
ADHD medication is a tool which when used responsibly can make it much easier for you to achieve your life's vision.
As long as you commit to sleeping well, eating high-quality food, exercising, and surrounding yourself with good people, you shouldn't face any serious issues with taking a light dose of ADHD medication on a regular basis.
Your ADHD medication regimen ultimately comes down to the current stage of life that you're currently in and the direction you're heading towards for the future.
So…
Which stage of life are you in?
Action steps
Determine where you currently are in your life (what's your current life stage?)
Decide whether ADHD medication will serve as a net positive or net negative to your current stage of life
Decide whether ADHD medication will serve as a net positive or net negative to your future stage of life
For further guidance, make sure to find a supportive doctor who has a non-judgmental understanding of ADHD and ADHD medication