Last updated: December 23rd, 2019 
Most ADHD sufferers understand just how useful Vyvanse can be. I've taken Vyvanse for roughly one year, and I would continue to take it if I could. But, life is complicated, and sometimes you need natural alternatives to Vyvanse for when you can't take your Vyvanse prescription.
In my case, health insurance has gotten too expensive for the time being, and I will have to treat my ADHD symptoms naturally over the next year or so.
If you're like me, and you can't access your Vyvanse prescription for one reason or another, then you'll benefit from reading this article.
I've had to manage my ADHD symptoms naturally for most of my life, so I know exactly how to help you…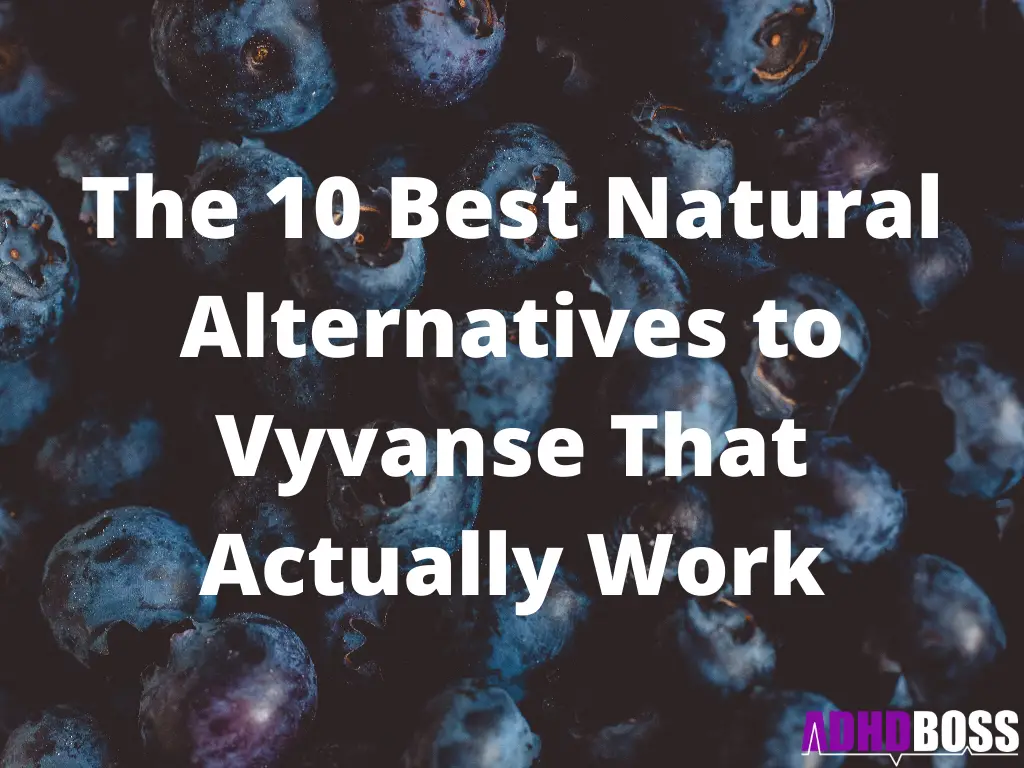 The 10 Best Natural Alternatives to Vyvanse That Can Actually Help With Your ADHD Symptoms
When you can't use Vyvanse to treat your ADHD symptoms, you can still leverage a variety of ingredients from Mother Nature to get a grip on your ADHD.
While the following 10 natural Vyvanse alternatives might not be as strong as taking Vyvanse – they're still extremely smooth, calming and effective at helping you manage your ADHD.
Enjoy the full list:
1. Organic Japanese matcha green tea powder
Organic Japanese matcha green tea powder (Amazon) is one of the most energizing, uplifting and mentally-stimulating natural products that I use.
One cup of matcha green tea delivers roughly ten times the nutritional value and antioxidants of regular green tea.
You can make ordinary matcha tea by mixing this powder with boiling water. Or, you can also brew delicious matcha tea lattes (if you decide to mix with hot milk).
This tea is sourced from a single estate Japanese farm. It's great quality. And, I can vouch that this superfood will actually help with your focus, mood, and energy levels.
2. Yerba mate

Yerba mate is a type of tea from the South American Rainforest that has been used by local tribes for centuries. It's commonly referred to as 'the drink of the gods' because of the calm, focused and 'enlightened' mental state that it puts most people in.
Drinking yerba mate will make you feel razor-sharp for 2 to 4 hours. It's also a great coffee substitute, because yerba mate contains ~40mg caffeine and a range of vitamins and nutrients.
Yerba mate isn't overly-stimulating, but still works as a powerful cognitive enhancer for short windows of time.
I find Guyaki Yerba Mate Organic Energy Drinks (Amazon) to be the strongest and most convenient variety of yerba mate. This is great for me since I'm busy and on-the-go for the time of day I want to drink this (late morning and early afternoon).
3. High-quality coffee
While I'm not a huge fan of drinking coffee to replace Vyvanse, I still appreciate the benefits of drinking a hot cup of joe on occasion.
I've actually found that the most important aspect of drinking coffee is to drink high-quality coffee, or else you'll burn out and feel bad after just 45 minutes.
The best way to find high-quality coffee is to go local. Just visit a local health food store that you trust, and buy a brand of coffee that sells out frequently. You'll be able to tell which coffee is popular by the quantity that's left in stock. Good coffee sells out fast.
If that doesn't work, then just order some bricks of Cafe Bustelo Espresso Ground Coffee (Amazon), which is high-quality and budget-friendly Cuban-style espresso coffee.
4. Fish oil
Taking fish oil can help you balance your level of omega-3 fatty acids, which plays a massive role in how well you're able to think and concentrate throughout the day.
Nordic Naturals Liquid Fish Oil (Amazon) is the best-quality fish oil that I've used. It comes in liquid form, so it's much easier to take than regular fish oil capsules (which normally feel like swallowing horse pills). Carlson Labs' formula also tastes like lemon, so there's no fishy taste at all.
And finally, I completely understand why many people say that taking fish oil is expensive. But, the truth is that not taking fish oil is a much more costly decision to make.
Paying for premium fish oil can help you fight ADHD symptoms, reduce inflammation, and even prevent the early onset of Alzheimer's Disease. Think of high-quality fish oil as an investment in your physical and mental health.
5. Pure beet juice
I don't actually like the taste of beet juice.
But, I have to admit that drinking beet juice feels like you're fueling your brain and body with something truly powerful. This is why I will always appreciate beet juice, regardless of how it tastes.
Beets have also been used for their medicinal properties for centuries, so the benefits are absolutely there…
In addition to lowering your blood pressure, fighting premature aging, and boosting your sexual performance, beet juice is also an amazing natural alternative to Vyvanse.
Drinking pure beet juice from the bottle (Amazon) is the easiest way to get an amazing and natural energy kick in a matter of seconds. I drink bottled beet juice often because of how convenient it is.
But, whenever I make a smoothie or juice in my Certified Refurbished Professional Vitamix Blender (Amazon) there are usually beets involved as well.
I try to drink as many beets as possible, however often I can.
6. Healthy food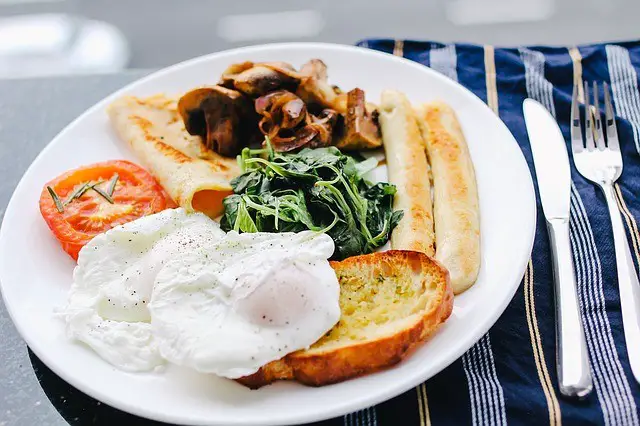 It's important that you get as much of your vitamins and nutrients from natural food as possible.
I completely understand that eating healthy food can be expensive. But, there are also plenty of great ways to eat healthy food on a budget.
For example, you can buy dried beans, herbs, spices, organic eggs, wild caught canned tuna, brown rice, spinach, quinoa, and organic chicken thighs for about $35 at your local health food store.
Eating healthy food is definitely a challenge for many people with ADHD. But, you won't believe the difference that healthy food can have on your cognitive ability.
7. Raw b complex multivitamin
As I mentioned above, it's best to get most of your vitamins from the food that you eat. But, this can also be a challenge, as it's often time-consuming and expensive to get all of your necessary vitamins from natural foods.
Luckily, taking a good food-based B complex supplement is an excellent way to cover a significant chunk of your nutritional needs, and ensure that your ADHD brain is working at peak performance.
Garden of Life Vitamin Code Raw B Complex (Amazon) is my go-to recommendation for getting all of your necessary B vitamins.
You can actually feel the benefits of taking a Raw B Complex multivitamin supplement. So, you'll always know that it's working.
Pro tip: I also recommend using Rainbow Light Men's One (Amazon) or Rainbow Light Women's One (Amazon) as well. These general food-based multivitamins are beneficial because they provide you with a wider range of nutritional benefits.
8. Zipfizz Healthy Energy Drink
Zipfizz Healthy Energy Drink (Amazon) basically saved me while I weened myself off of using Vyvanse.
I love that Zipfizz is loaded with antioxidants in addition to caffeine.
So, it feels much healthier than drinking an ordinary energy drink that you'd find in a gas station.
I honestly have to say say that Zipfizz is probably the closest natural alternative to Vyvanse that's available over the counter.
So, if you're looking for a stimulating ingredient that still manages to be beneficial for you – then you need to give Zipfizz a try.
9. Pomegranate juice
Pomegranate juice (Amazon) is an antioxidant-rich beverage that's incredible for ADHD.
According to some studies, regularly drinking pomegranate juice has been shown to improve memory, delay the onset of fatigue, and provide neuroprotective benefits which fight against Alzheimer's Disease.
It's becoming clear that there's a link between regular pomegranate juice consumption and better mental health.
So, it's never a bad idea to take down some pomegranate juice in the fight against your ADHD symptoms.
10. Magnesium
My life changed dramatically once I started to take 1 capsule of Magnesium (Amazon) every night.
Immediately after beginning my nightly magnesium regimen, I started to experience better sleep, more vivid dreams, and much better mornings as a result.
One thing to note is that it's important to take a high-quality form of magnesium, because some types of magnesium (like magnesium oxide) don't absorb well in the body.
I ultimately recommend using Magnesium Citramate because you'll be able to feel it working the very same night that you take it.
Best Natural Alternatives to Vyvanse Conclusion
I still believe that Vyvanse is an excellent medication.
But, it isn't always affordable, easy to access or convenient to take (as I've found out first-hand).
So, when it comes to fighting ADHD symptoms without the use of pharmaceutical products, these 10 natural alternatives to Vyvanse are the very best options that you have.
On the plus side, when you aren't taking Vyvanse, you'll be able to give your adrenal glands a break, and feel a lot healthier as a result.
If you're really lucky, you might not even need to return to using any medication after finding the natural Vyvanse alternatives that work best for you.