Published on: December 23rd, 2019
We're about one week away from the new year.
Which means a lot of people's lives are about to change forever.
The start of a new year is always something extremely special.
In one week, you have the chance to experience:
New possibilities
New opportunities
A fresh start for your life
This quick article is designed to help people with ADHD set achievable goals in the year 2020 and beyond.
Enjoy…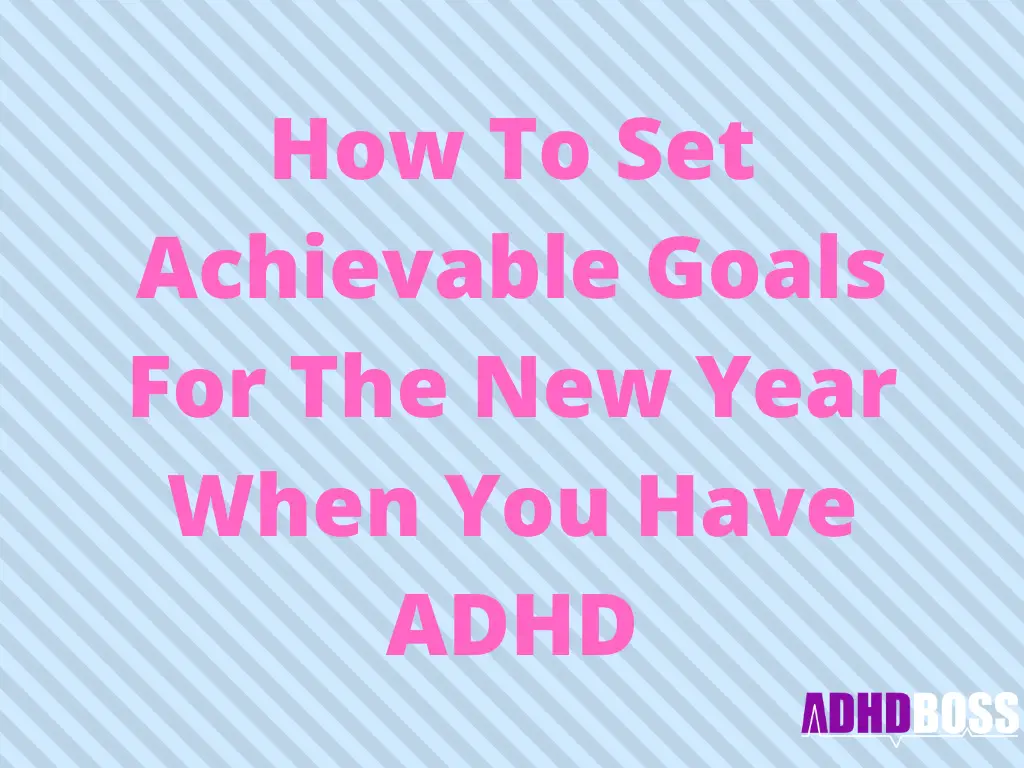 How to think about goal-setting when you have ADHD
One of the hallmark features of having ADHD involves setting goals, and then completely forgetting about those goals soon thereafter.
This isn't your fault though.
It comes with the territory of having ADHD.
The good news is there's an easy way for you to set goals for the new year and achieve those goals.
Even when you have ADHD!
Focus on achieving just one vision for your life
The biggest change I'm making in 2020 revolves around focusing on just one central vision or mission for my life.
If you set too many goals, you're instantly setting yourself up for failure, because everyone on this planet has a limited number of what I like to call attention units.
Human beings are capable of focusing on 1 or 2 things, and doing those things really well.
Once you move beyond 1 or 2 tasks, there's no room for exceptionalism.
Multitasking leads to mediocrity.
The only way to accomplish anything significant in life is to focus on 1 or 2 major tasks you'd like to achieve.
It's actually best to just focus on one vision for your life.
But having 2 visions can be acceptable in some cases.
If you have a really difficult time accomplishing goals, I recommend focusing on the single vision that you desire for your life.
Don't add distractions and clutter into your life when it isn't necessary
In 2020, I'm spending a lot of time decluttering and simplifying my life.
My life has always been best when I have just a few variables to worry about.
Publishing high-quality articles about ADHD from a laptop
Getting good sleep
Eating a good diet
Exercising
Having great relationships with great people
When my life revolves around those 5 factors, my life is generally pretty great.
When I stray too far from those 5 factors, I know I'm adding too much clutter and junk back into my life.
For example, I recently started a highly-complex project and it made my life pretty miserable. I killed off the project because I value simplicity. Not complexity.
I strongly recommend keeping your life as simple as possible in 2020, and focusing on just one overall vision for your life.
Have you set your goals for the new year yet?
Please leave a comment in the comments section below and let me know about the goals you've set for the new year!
What are you doing differently this year in comparison to previous years?
How will you accomplish your goals?
Share your thoughts and help other individuals with ADHD in the process.
Thank you!