Published on: November 30th, 2019
Living with ADHD can be painful.
When you have ADHD, you have to start anticipating obstacles and learning how to overcome obstacles.
This article is going to help you achieve your life's vision regardless of the obstacles that stand in the way.
Why it's so important for people with ADHD to anticipate & overcome obstacles
If you've read any of the most recent articles on ADHD Boss, you learned how to create a clear vision for your life when you have ADHD.
You also learned how to create a flexible, personal roadmap that leads you to your life's vision with ADHD. 
Assuming you've read & implemented these two previous articles, you've shown that you're committed to living the best life possible with ADHD. And I genuinely applaud you for this.
Today's article revolves around anticipating and overcoming obstacles. Because it's inevitable that you will face major obstacles throughout your life's journey.
Especially when you have ADHD.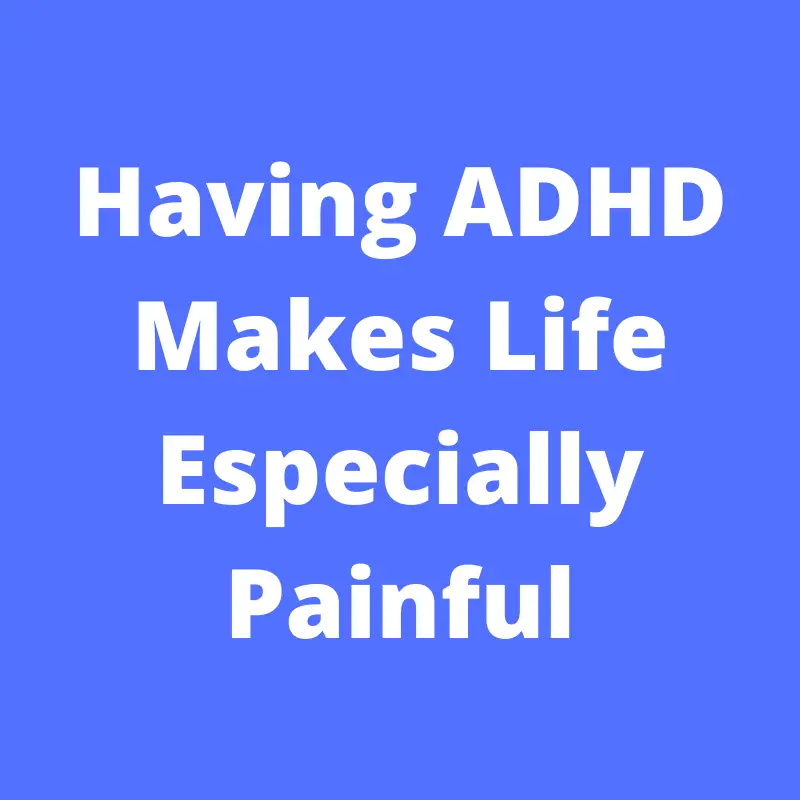 As a matter of fact, I would question the vision you've created for your life if you didn't have any significant obstacles or headaches to deal with on a daily basis.
If you don't have any serious obstacles to deal with, your life's vision might be too small!
For example, if your life's vision is to drive a BMW, there's absolutely nothing wrong with this.
But driving a BMW is only only going to cost you a few hundred bucks per month. Or 11+ working hours every month, if we're going by the median American wage of $27/hour. 
You won't have many obstacles to deal with on your path to driving a BMW. In the USA at least.
If your life's vision is anything greater than this, like owning a home by the beach, running your own business, or living a life of complete autonomy, world travel and freedom…you'll have to start getting used to dealing with significant obstacles and mental pain.
In future articles on ADHD Boss, we're going to discuss mental pain in-depth.
There are different "varieties" of mental pain that you'll need to become familiar with…
Such as constructive and destructive types of mental pain.
The main point here is that mental pain can be incredibly good when you approach mental pain from the correct perspective.
For now, you can start by anticipating the obstacles you'll have to face on your journey towards your life's vision.
You have to be realistic here. And when I say "be realistic" I mean you should take whatever obstacles you imagine and multiply those obstacles by a magnitude of 10x.
To maximize your odds of achieving your life's vision, you'll need to exert 10x more energy, overcome 10x more obstacles, and handle 10x more "constructive mental pain" than you initially expect.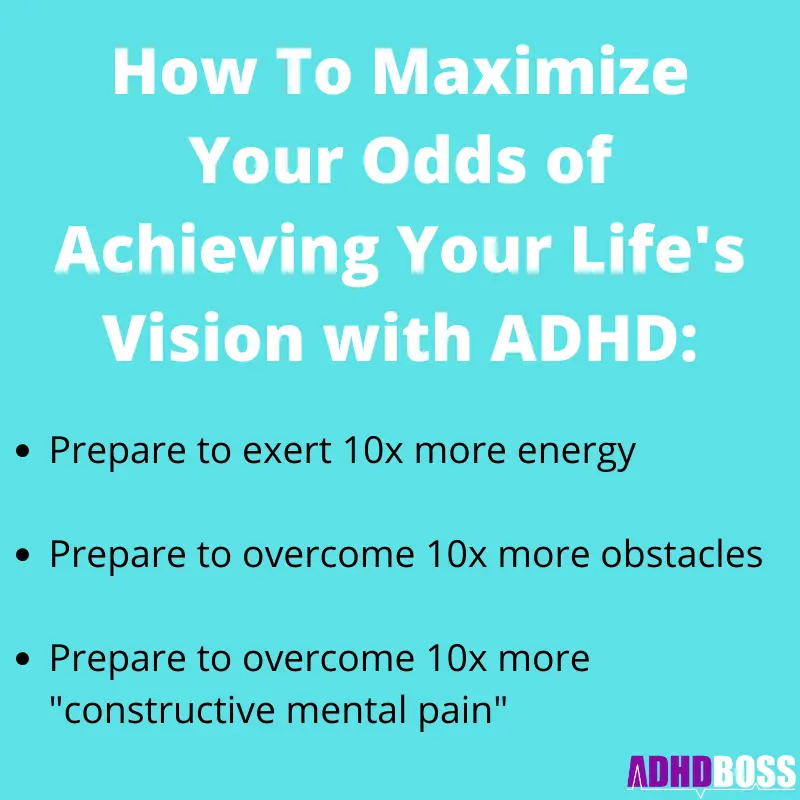 Winners know that life is mentally painful, especially when you have ADHD…
Pain is the reality of what it takes to succeed at nearly anything worthwhile in life.
You should anticipate a lot of obstacles and a lot of mental pain on your journey.
But don't worry. 
The obstacles and mental pain that you overcome throughout your journey is what gives you a major long-term edge in life
This is why mental pain can turn out to be a very good thing.
For every hurdle you overcome in pursuit of your life's vision, your "competitors" will need to overcome those same hurdles too!
Life is essentially a competitive sport. And you will have a few intense competitors.
For example, let's go back to our previous sample roadmaps for a moment.
In the case of the person who desires to retire relatively young in South Florida, they will have to acquire a high-paying job, build a profitable side business, and purchase cash-flowing real estate properties in South Florida before they can achieve their life's vision.
The aspiring South Florida retiree will have to "defeat" competition in three separate markets:
Primary job market
Side business market
Real estate market
This is going to be painful for the aspiring South Florida retiree.
But it will be worth it.
In the case of the aspiring world-renowned artist, their artwork will take up valuable "real estate" in prestigious art museums, which many other artists will be competing for as well.
The aspiring world-renowned artist will also have to "defeat" competition in multiple different arenas of life:
Museums
Art-themed networking events
Primary job market
If your life's vision is anything worthwhile, you have to anticipate obstacles along every step of your journey and know this is a good thing!
A significant reward cannot be gained without a significant "cost" attached
At the end of the day, the only way to gain a significant reward in life is to "pay the toll" in one way or another.
The "cost" that you must pay usually involves energy, mental pain, time and/or money.
In future articles on ADHD Boss, we're going to dig so much deeper into the specific strategies you can use to overcome nearly any obstacle you face.
Right now, I just need you to know that overcoming obstacles is a temporary pain that leads to immense long-term rewards in life.
Pursuing your life's vision against all odds is always going to be worth the cost.