Last updated: December 23rd, 2019
I've been using zinc for ADHD for over two years. Taking zinc has a number of amazing health benefits.
But, what specifically can zinc do for people with ADHD? Well, that's what today's article is all about.
Read on to discover the 5 ways that using zinc can help you live a much better life with ADHD.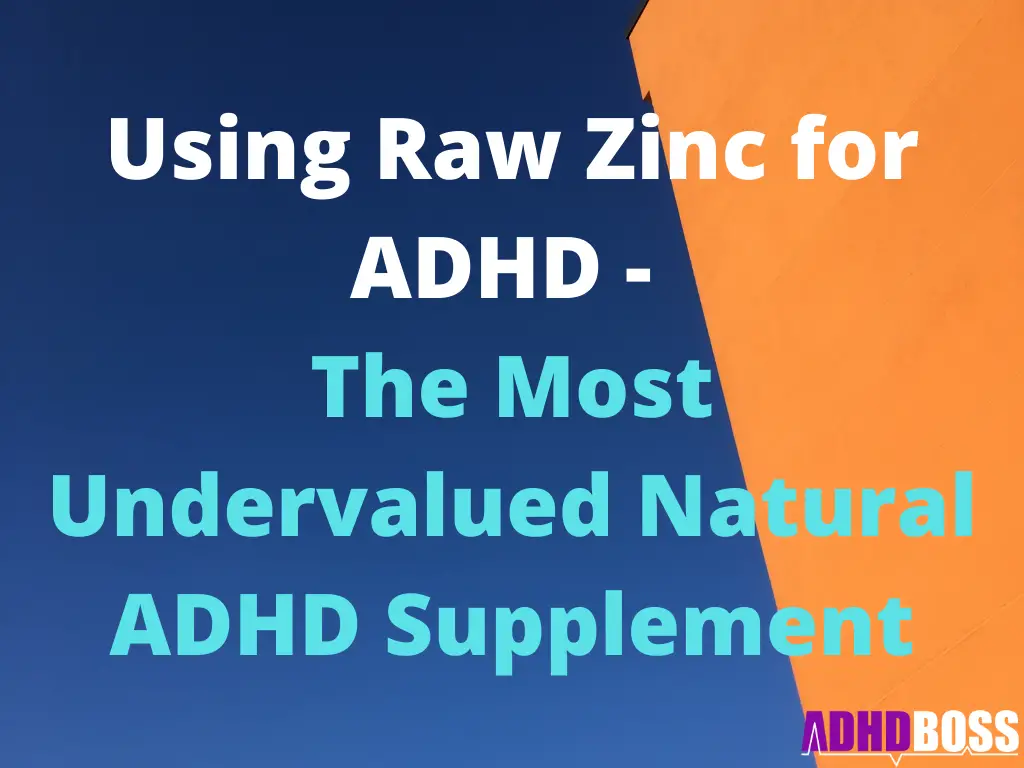 1. Zinc improves memory and cognition
One study from the Duke University Medical Center reveals that using zinc regulates communication between brain cells.
This surprising data suggests that zinc plays a critical role in how your brain evaluates new information, and forms new memories. Specifically, zinc regulates the cellular communication that takes place in the hippocampus region of your brain.
While it still isn't totally clear how zinc improves memory and cognition, it's an extremely interesting development that may help people with ADHD enhance their cognitive abilities.
2. Using zinc boosts your immune health
The American Journal of Clinical Nutrition states that zinc is known to play a central role in the immune system.
So naturally, one of the most common uses of zinc is to prevent getting sick. And, many people who frequently use zinc claim that they rarely ever get sick.
Personally speaking, I rarely ever get sick. I really have to thank zinc for this, too.
Most people with ADHD know that ADHD medication can occasionally hit your immune system hard. Because sometimes, it's easy to use ADHD medication, and then skip out on sleep, forget to eat healthy food, avoid drinking water, etc. This is all bad news.
So, zinc is one of the most important supplements that people with ADHD can take to stay in good health (especially while using ADHD medication).
3. Studies show that zinc may improve attention and motor development in children who are deficient
Zinc deficiency can have a major impact on child development, and lead to problems related to cognitive and motor development.
Evidence suggests that zinc deficiency can be associated with issues related to attention and activity in children who are nutritionally deficient.
So, could there be a connection between children who don't get enough zinc, and show symptoms of ADHD?
It sure seems like this could be the case.
4. Zinc can boost physical performance
Both men and women benefit from zinc because it can have a major boost in physical performance.
Zinc actually plays a significant role in hormone production, and leads to a stronger release of testosterone and growth hormone.
So, whether you like to hit the gym, go for an evening run, or even play a little bit of tennis – using zinc will help you stay more active and energized.
And, as you may already know, there's a powerful relationship between physical activity and cognitive function.
This is ultimately how the chain-reaction goes:
Zinc can boost hormone function, which helps you become more physically active, which enhances your cognitive ability, and potentially improves your ADHD symptoms.
See how everything in life is interconnected? It's amazing, really. And, much of your physical and cognitive health can be "kickstarted" by simply taking more zinc.
5. Taking zinc improves cardiovascular health
One of the greatest benefits of zinc, especially for people who use ADHD medication, is that zinc can improve one's cardiovascular health.
Multiple studies have shown that zinc has protective effects in coronary artery disease and cardiomyopathy.
Many people who use stimulant-based ADHD medication are worried about the excess strain that certain ADHD medications can add to one's cardiovascular system.
And, using zinc can be an amazing way to potentially counteract some of the stress that certain ADHD medications may add to one's cardiovascular system.
The best raw zinc for ADHD
Vitamin Code Raw Zinc (Amazon) is the best raw zinc that I've been able to find.
I like Vitamin Code Raw Zinc because their zinc is considered whole food zinc. In other words, their zinc is made from real food rather than synthetic compounds.
I have to imagine that your body appreciates food-based zinc much more than it does chemical compounds. I know that I feel extremely good when I take whole food zinc.
How much zinc to take each day
Vitamin Code Raw Zinc (Amazon) contains 30mg of raw zinc per capsule. I find this to be the perfect amount of zinc for adults with ADHD to take.
Mayo Clinic once provided the following guidelines for using zinc for ADHD (the relevant page has since been removed by Mayo Clinic for some odd reason, but the information is still valuable for educational purposes):
For attention-deficit hyperactivity disorder, the following doses of zinc have been taken by mouth: 150 milligrams of zinc sulfate sprinkled into a breakfast drink daily for 12 weeks; 55 milligrams of zinc sulfate (containing approximately 15 milligrams of elemental zinc) in addition to one milligram of methylphenidate per kilogram, daily for six weeks; and 30 milligrams of zinc oxide with or without 30 milligrams of iron for six months. Doses of 15-30 milligrams of zinc has been taken by mouth daily for up to 13 weeks.
15-30 milligrams of zinc seems to be the most common dose for long-term usage. I like to play it safe, so I'll stick with this range for optimal results.
When it comes to using zinc for children with ADHD, it's best to play it even more safe, and use a relatively low dose of zinc. One study regarding the role of zinc in the treatment of hyperactivity disorder in children shows that 15mg of zinc sparked an improvement in some ADHD children. Another placebo-controlled double-blind pilot trial found that taking up to 30mg of zinc per day was safe for ADHD children for at least 8 weeks.
If you use zinc for children with ADHD, make sure to keep the dose extremely low at first for best results. Using 15 milligrams of zinc per dose or even less is going to be ideal for ADHD children. And of course, always discuss your child's supplement stack with a child care specialist before introducing any new dietary changes.
Conclusion
Zinc has long been considered a decent supplement for people with ADHD to take.
But, I think that the true benefits of using zinc for ADHD are largely overshadowed by the more popular natural stimulants for ADHD.
By taking zinc, you'll most likely experience benefits like:
Having a brain that functions better
Getting sick less often
Feeling physically stronger
Counteracting some of the strain that ADHD medication may cause to your cardiovascular system
To put it simply, zinc is an extraordinarily valuable natural mineral that most people with ADHD need to take.
If this sounds good to you, I highly recommend that you snag a bottle of Raw Zinc (Amazon) soon. You'll almost certainly feel better after you do.