Last updated: November 27th, 2019 Vyvanse is an excellent medication. But, many people don't recognize the Vyvanse withdrawal symptoms that may eventually arise as a result of getting off the prescription drug.
While withdrawing from Vyvanse should always be done under the supervision of a doctor, this article shares the withdrawal symptoms that I experienced after stopping Vyvanse.
But, this article also reveals:
The major disappointments of withdrawing from Vyvanse
The major upsides of withdrawing from Vyvanse
My 9 best tips for dealing with Vyvanse withdrawal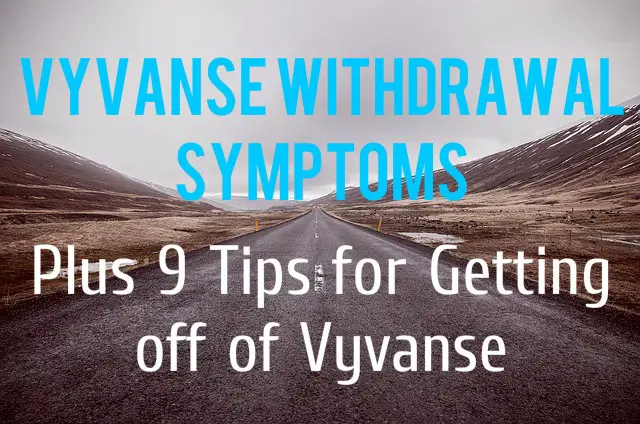 So, make sure to read through this article until the very end to get all of my personal tips for making the transition off of Vyvanse as smooth and pain-free as possible.
OK, let's get started…
The Vyvanse withdrawal symptoms I experienced
Here's a list of the symptoms that I personally experienced when I stopped taking Vyvanse after one year of use:
Nausea
Withdrawing from Vyvanse made me feel slightly sick. It wasn't an overwhelming sickness or anything like that.
But, I definitely didn't want to move around too much since I didn't feel like my normal medicated self.
Headache
Without Vyvanse, I had a moderate headache that lasted two or three days before going away.
It wasn't a severe headache.
But, it was noticeable and frustrating to deal with. I drank water all day long to deal with the headache.
Irritation
Vyvanse is such a useful medication for most people with ADHD, to where you'll probably feel irritated when you don't have access to it.
This is to be expected, since your brain enters a state of shock when its neurotransmitters aren't firing like they would be while on Vyvanse.
While withdrawing from Vyvanse, your brain constantly sends you annoying messages like 'What are you doing? Why aren't you taking Vyvanse right now? Go take some!'
The irritation is only temporary, but it's still somewhat difficult to deal with.
Hunger and weight gain
When I take Vyvanse, I don't want to eat much food.
But, as soon as I stopped taking Vyvanse, I wanted to eat nearly twice as much food.
I also put on a few pounds after stopping Vyvanse. This was pretty hard to avoid.
Inability to focus
As you know, Vyvanse is a medication that helps people with ADHD focus.
Without Vyvanse, I felt like I was no longer competing on a level playing field.
So, I naturally went back to feeling a little bit like a wanderer, daydreamer or slacker (like back in highschool).
Wacky mood
When a medication becomes a part of your daily regimen for a long enough time, your mind will naturally feel out of wack without it.
In my case, not taking Vyvanse made me feel a little more emotional, short-tempered and probably unpleasant to be around.
Increased anxiety
You'll probably feel anxious when you stop taking any important medication.
Withdrawing from Vyvanse made me feel like a lost puppy for a little while, because my brain had gotten so comfortable on the medication.
This led to feelings of increased anxiety and nervousness.
Lethargy
Naturally, I didn't want to do much of anything when I stopped taking Vyvanse.
I was a real couch potato extraordinaire.
But, lethargy is just a mental push back.
So, I eventually fought against my brain, and made my way back into the gym.
Desire for alternative stimulation
When you're on Vyvanse, your ADHD brain gets used to the amazing feeling of mental stimulation that Vyvanse provides.
Naturally, after I stopped taking Vyvanse, I felt the desire to be stimulated by something.
This led to me drinking a lot more caffeine in the form of yerba mate and coffee.
If you're withdrawing from Vyvanse, prepare to drink a lot of coffee or tea (not necessarily a bad thing).
The major disappointments of withdrawing from Vyvanse
Coming off of Vyvanse isn't an easy decision to make.
So, I feel that it's important to take a look at the disappointing aspects of withdrawing from Vyvanse, too.
Here's a list of the disappointments of withdrawing from Vyvanse:
Fear of missing out (FOMO)
By far, the biggest disappointment of withdrawing from Vyvanse is the fear of missing out (FOMO).
In case you aren't familiar with the term, FOMO is a normal response to the feeling that you're "missing out" on something in life.
With Vyvanse no longer in my life, I strongly felt as if I was going to miss out on potential opportunities that life brought my way.
Of course, FOMO isn't always a logical response. But, it is pretty difficult to overcome the fear of missing out, because it's basically hardwired in your brain.
Feel way less productive
While on Vyvanse, I felt like a well-oiled machine.
I would wake up at 6 a.m., pop a Vyvanse, crush some work, and basically forget to eat until noon.
Without Vyvanse, you have to develop a lot more mental resilience in order to have that type of work ethic.
Being on Vyvanse makes dealing with ADHD a lot easier. Not being on Vyvanse makes ADHD symptoms much more challenging to overcome.
Need more sleep
For some reason, my body functioned perfectly well off of 6 or 7 hours of sleep while I was taking Vyvanse.
Without Vyvanse, I sleep for 8 or 9 hours.
Obviously, getting a lot of sleep is important for good health. So, it's probably a good thing that I'm now back to getting the amount of sleep that my body naturally desires.
But, I have to admit that I miss grinding for 14 hours each day, relaxing for a few hours, and then getting by just fine with 7 hours of rest.
Still need stimulus
When you stop taking Vyvanse, you'll probably still want some type of stimulus to satisfy your ADHD brain.
I'm naturally a stimulus-seeking, risk-taking kind of person. So, as soon as I stopped taking Vyvanse, my stimulus-seeking behavior went back into overdrive.
I wanted to drink coffee, watch action movies, exercise, or just do anything to keep my ADHD brain satisfied.
The major benefits of withdrawing from Vyvanse
It's important to keep in mind that not all Vyvanse withdrawal symptoms are bad.
Understanding the benefits of withdrawing from Vyvanse actually helped me a lot while going through the process.
For example, while I didn't necessarily want to withdraw from Vyvanse, I knew that I probably wouldn't be able to use the medication permanently.
So, here are the major benefits of withdrawing from Vyvanse:
Freedom to travel
I personally like to travel a lot.
And, having to check in with a doctor for Vyvanse prescription refills every month or so felt like a shackle that I was locked into.
It's also difficult to get Vyvanse in most countries other than the USA. So, relying on Vyvanse can add some hurdles to your life.
However, freeing yourself from mandatory doctor's visits and pharmacy pick-ups is a major benefit of coming off of Vyvanse.
Stronger feeling of groundedness
Stopping Vyvanse brought back my sense of groundedness.
Without Vyvanse, I felt like I was able to create stronger emotional bonds with people.
I think a lot of people can relate to this, since being on Vyvanse usually makes you feel like you're operating on a different wavelength than most people.
Long-term health
Going without Vyvanse is probably a positive long-term decision to make for plenty of people.
But, this isn't always the case. 
Life is complicated, and I completely respect that Vyvanse will help many people take control of their ADHD symptoms.
In my case, I know that going without Vyvanse can provide some positive benefits for my long-term health.
Better skin
For some reason, my skin improved after I stopped taking Vyvanse.
I had more color in my face, and I didn't look as pale.
Of course, I have no idea if this is a common experience, or just anecdotal evidence.
It's just a truthful observation that I have to note.
My 7 best tips for withdrawing from Vyvanse
While I can't give medical advice (I'm not a doctor) – I can still share the best tips that worked for me while I was withdrawing from Vyvanse.
Here's a list of my 7 best tips for withdrawing from Vyvanse:
Tip 1. Talk to a physician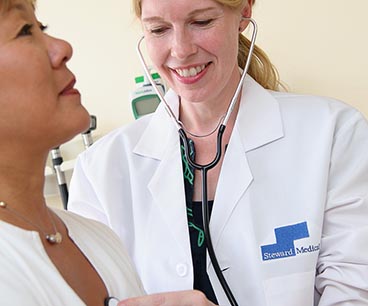 Withdrawing from a medication like Vyvanse is a fairly serious decision. So, you should talk to a physician if you decide to do this.
A medical professional will be in the best position to give you advice regarding stopping Vyvanse.
Tip 2. Slowly taper off of the medication
I didn't stop Vyvanse cold turkey. That would be miserable.
Instead, I slowly lowered my intake of Vyvanse using a 'Vyvanse water' medication titration trick.
For example, I lowered my intake of Vyvanse by about 5-10mg each day until I totally stopped taking it.
This made the withdrawal symptoms that I experienced a lot easier to deal with.
Tip 3. Clear your calendar
If you've been taking Vyvanse for a while, then you aren't going to want to accomplish much once you stop using the medication (at first).
If possible, you should try to take a week off from work, catch up on some movies, or read some books that you've been meaning to check out.
Without Vyvanse, you're going to want to clear your calendar, and get really comfortable for about one week.
Tip 4. Do some light busy work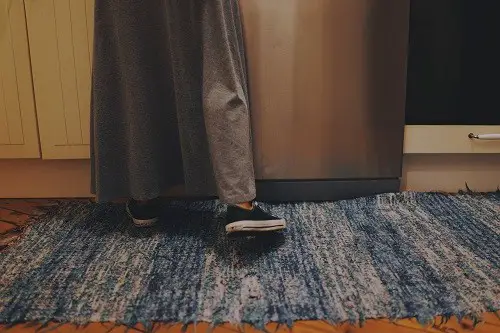 Sitting around all day might make some people (especially high-achievers) feel even worse about withdrawing from Vyvanse.
If this sounds like you, then I recommend doing some light housework, cleaning, small DIY projects or anything to keep your mind off of withdrawing from Vyvanse.
Tip 5. Force yourself to exercise
Forcing yourself to exercise will generally make you feel better about withdrawing from Vyvanse.
Your brain will try to prevent you from exercising.
But, it's usually in your best interest to exercise regardless. You'll feel a lot better afterwards. I promise.
Pro tip: If you have access to a sauna at your local gym, make sure to use it as often as you can once you're fully off of Vyvanse. I could never take advantage of using saunas while on Vyvanse, out of the rational fear that my body would overheat (since Vyvanse is a stimulant). Sweating out your toxins is such an amazing luxury, so be sure to do it often (again, make sure you don't have any Vyvanse in your system).
Tip 6. Drink lots of water and Pedialyte
You need to do a lot of healthy activities to counteract the negative symptoms that come with quitting Vyvanse.
And, drinking water is great for you. So, make sure to drink at least 8-10 glasses per day.
Drinking some Pedialyte (Amazon) is also amazing for hydrating (it's much healthier than drinking Gatorade).
Tip 7. Consider using natural Vyvanse alternatives
Using natural alternatives to Vyvanse like Zipfizz (Amazon), yerba mate, and pure pomegranate juice is going to be a must while coming off of Vyvanse.
You're going to crave something to fill the void that's left over from Vyvanse.
And, I think it's perfectly okay to go ahead and temporarily fill that void – so that you don't feel absolutely miserable while coming off of Vyvanse.
I highly-recommend stocking up on Zipfizz and cranberry juice, at the very least.
This will allow you to safely feel stimulated (by the caffeine and vitamins found in Zipfizz) while also detoxing your body (with pure cranberry juice).
Tip 8. Do a full body detox
I recommend doing a full body detox if you've been using Vyvanse for quite some time.
There's a decent chance that your adrenal glands will be fatigued after using Vyvanse, anyway. So, you'll probably want to take advantage of a full body cleanse of some sort.
You'll ultimately want to drink a lot of raw beet juice, eat plenty of fruits and vegetables, and take a good nutritional supplement like Barlean's Chocolate Silk Organic Greens (Amazon). This organic powder formula is quite healthy and tastes like a chocolate shake.
Tip 9. Get out of town for a while (if possible)
If you can afford the extra cost, I highly recommend booking an AirBnB apartment in a nearby (or far away) city while you're getting off of Vyvanse.
Yes, this is essentially like taking a staycation or a vacation (depending on your preference).
I personally took a trip to New York City when I was coming off of Vyvanse, and I had never been to NYC before, so it was an amazing way to distract my mind from the Vyvanse withdrawal symptoms I was experiencing.
So, if you can swing the added cost, keep in mind that rewarding yourself with a vacation is a great way to mentally distract yourself from the worst of the withdrawal symptoms.
Vyvanse Withdrawal Symptoms Conclusion
Overall, withdrawing from Vyvanse doesn't feel great.
But, it isn't the end of the world either.
I would compare Vyvanse's withdrawal symptoms to having a mild cold that lasts four or five days, and then subsides over the next the few weeks.
It's important to note that my Vyvanse withdrawal symptoms were only temporary.
Stopping any important prescription medication after taking it for a long enough time will make you feel strange for a while.
But, after 2-3 weeks of not taking Vyvanse, I began to feel like my old self again – for better or worse.
At the end of the day, I still appreciate that taking Vyvanse improved my life in big ways. I may continue to take Vyvanse at some point in the near future.
But, it's still wise to stay cautious of the withdrawal symptoms that may come with taking Vyvanse.
Vyvanse's withdrawal symptoms are a real possibility. And, they're something that you'll have to take into consideration when using, quitting, or taking a break from my favorite ADHD medication in the universe.