Last updated: November 27th, 2019
I recently started taking high doses of vitamin C every day. And, I now consider Vitamin C to be one of the most important nutrients that can immediately improve your health and happiness.
So, this article explains everything that you need to know about using vitamin C for anxiety, stress, mood management, disease prevention, and so much more…
What is vitamin C?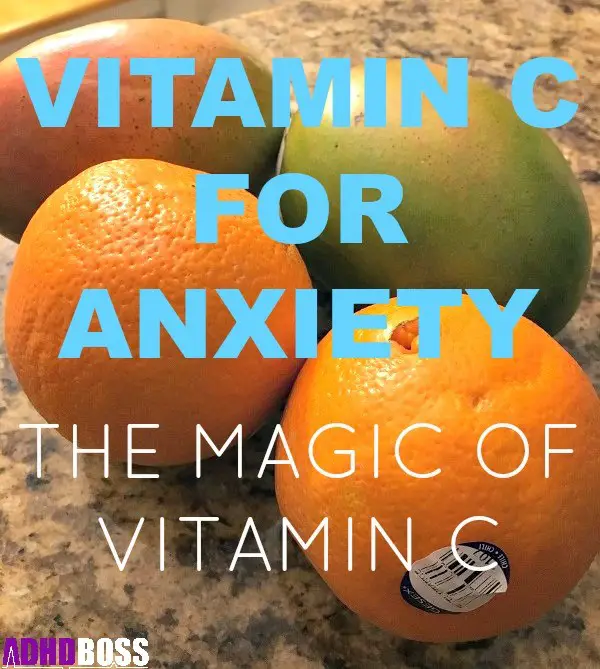 Vitamin C (ascorbic acid) is one of the most crucial antioxidants that your body needs in order to prevent scurvy, strengthen your immune health, and reduce oxidative stress.
Research also shows that vitamin C plays an important role in fighting infections, treating cancer, synthesizing collagen, healing wounds, and improving cardiovascular health (1).
But, did you know that taking vitamin C can also improve your mental state?
For example – medical literature makes it clear that oxidative stress can trigger neuropsychological disorders (2).
And, vitamin C is an antioxidant, which by definition means that vitamin C combats the damage caused by oxidative stress.
This makes vitamin C especially useful to those who struggle with anxiety, depression, and mood imbalances.
Vitamin C is ultimately one of the most well-rounded, powerhouse nutrients that you can use to boost your overall health and livelihood.
Why most people need to supplement with vitamin C
When your body is stressed, sick, afraid, or toxic – your system starts to use a LOT more vitamin C than usual (3).
So, if you're in a constant state of heightened stress or anxiety, there's a good chance that your body is already craving vitamin C to begin with…
But, to make matters worse, most people also live in a "toxic environment", in which there are far more unnatural stressors than Mother Nature ever intended for there to be…
For example, between all of the harmful ingredients found in food, environmental toxins (like heavy metals and plastics), and work-related stress that you probably encounter on a daily basis – your body is most likely being depleted of vitamin C at a fast rate.
And surprisingly, human beings are one of the few mammals on this planet that do not produce vitamin C.
This means that most people need to take additional vitamin C beyond what's normally absorbed from fruits and vegetables.
Why you should consider using vitamin C for anxiety
I'm writing this article because of the noticeable mood lift and reduction in anxiety that I personally experienced after supplementing with high doses of vitamin C.
I may have been slightly deficient in vitamin C – and that definitely could have been the reason for my positive experience.
But, after investigating the connection between vitamin C and anxiety reduction – I found plenty of evidence that suggests you'll be able to experience similar results as myself…
> One study examined 42 high school students in a randomized, double-blind, placebo-controlled trial, and found that vitamin C reduced anxiety levels compared to placebo (4)
> Another study shows that the short-term supplementation of vitamin C reduced the anxiety of people with type 2 diabetes (5)
> A study of "acutely hospitalized patients" who were administered vitamin C showed a 71% reduction in mood disturbance, and a 51% reduction in psychological distress (6)
Overall, it's important to keep in mind that oxidative stress is considered to be the leading cause of depression and anxiety disorders (7).
And, vitamin C is known as an antioxidant that fights the damage caused by oxidative stress. So, it should be clear that using vitamin C for anxiety is an extremely wise decision.
The best vitamin C powder that I recommend using
I like using powdered supplements rather than capsules whenever possible.
There's definitely nothing wrong with using capsules.
But, I sometimes get sick of swallowing pills. I'm sure that you feel the same way.
So, the Now Foods Vitamin C Crystals (Amazon) is ultimately one of the best vitamin C powders that I recommend using.
It's pharmaceutical grade, 100% pure ascorbic acid.
Now Foods is also a reputable, affordable brand that I use for many of my supplements.
I haven't ever experienced any issues with their products.
How much vitamin C powder should you take?
One half teaspoon of Now Foods Vitamin C Crystals is equal to 2,250 milligrams of vitamin C.
So, I take one half teaspoon of this powder (2,250 milligrams of vitamin C) two or three times per day.
The dosing instructions are also clearly printed on the product label – if you ever need a reminder of how much vitamin C to take.
Most people can comfortably take anywhere from 1,000 to 6,750 milligrams of vitamin C per day to strengthen their immune system, fight free radicals, combat sickness, and live a less stressful and anxious lifestyle.
However, it's also worth noting that the current recommended dietary allowance (RDA) of vitamin C is just 90 milligrams per day for adult men, and 75 milligrams per day for adult women.
While there's nothing wrong with taking just the bare minimum RDA of vitamin C (doing so will help you prevent scurvy) – taking high doses of vitamin C has been shown to improve physical, mental, and emotional functions in certain populations (especially those who are chronically sick).
ADHD Boss is a website that generally focuses on helping people deal with moderate to severe health issues. This is why I recommend that most readers supplement with higher-than-average doses of vitamin C.
In fact, here's what the Orthomolecular Medicine News Service has to say about using high doses of vitamin C:
The medical literature has virtually ignored 75 years of physician reports and laboratory and clinical studies on successful high-dose vitamin C therapy.

Effective doses are high doses, often 1,000 times more than the US Recommended Dietary Allowance (RDA) or Daily Reference Intake (DRI). It is a cornerstone of medical science that dose affects treatment outcome. This premise is accepted with pharmaceutical drug therapy, but not with vitamin therapy. Most unsuccessful vitamin C research has used inadequate, low doses. Low doses do not get clinical results.

Investigators using vitamin C in high doses have consistently reported excellent results. High doses were advocated almost immediately after ascorbic acid was isolated by Albert Szent-Gyorgyi, M.D. (1893-1986). Notable early medical pioneers of high-dose vitamin C (ascorbate) therapy are Claus Washington Jungeblut, M.D. (1898-1976); William J. McCormick, M.D. (1880-1968); and Frederick R. Klenner, M.D. (1907-1984). More recently, important work has been published by Hugh D. Riordan, M.D. (1932-2005) and Robert F. Cathcart III, M.D. (1932-2007).
Vitamin C is a water-soluble vitamin. Your body doesn't store excess amounts of vitamin C.
This makes vitamin C an extremely safe antioxidant to use. You won't overdose on vitamin C.
But of course, you should still talk to your doctor before using vitamin C, just to be safe.
And please remember to divide your doses of vitamin C into small quantities.
Taking too much vitamin C at once can lead to nausea, an upset stomach, or diarrhea. If you experience any of these symptoms, you should lower your dosage of vitamin C.
Like I said – I personally take 2,250 milligrams of vitamin C two or three times per day. This dosage works great for my system. But, you might need to adjust your doses accordingly.
At the end of the day, you'll simply need to experiment with using a little bit of vitamin C, listen to your body (and your doctor), and adjust your doses based on how you feel.
Final thoughts
Overall, when you're dealing with high amounts of stress and anxiety – you need every little advantage that you can get in life.
And, vitamin C is an extremely safe, affordable, and easy-to-use supplement that has the potential to noticeably improve your anxiety, stress, mood, immune health, and so much more…
If you're willing to give vitamin C a try – I think that you'll be extremely happy with your results.
Also…if you've used vitamin C to help with anxiety, depression, or just general health and well-being – then I want to hear about it.
Can you please drop me a comment below, and explain if you've personally benefited from taking vitamin C?
Your comment will help the ADHD Boss community tremendously. Thank you.