Last updated: December 23rd, 2019 As someone who has personally dealt with ADHD, depression, anxiety and similar problems, I'm sensitive to the difficulties that you may be facing in your life. I've experienced the lowest of lows, and I know how it feels. But at the same time, I know first-hand that treating ADHD and depression requires a swift dose of reality that might be uncomfortable to hear.
But that's OK.
I'm willing to dish out the harsh truths about dealing with ADHD and depression so that you can get better soon.
This article reveals everything that you need to know about taking control of your life, and getting you back to a point where you can feel like yourself again.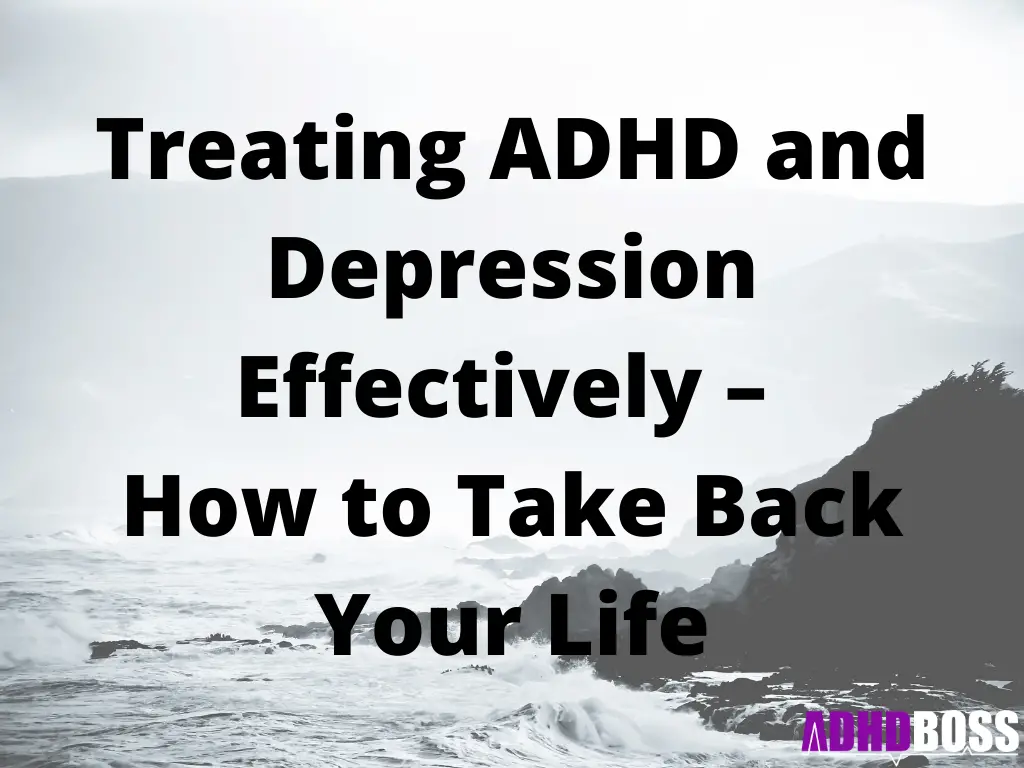 Step 1. Eliminate before adding
The most important step in dealing with ADHD, depression, anxiety and similar mental conditions involves eliminating bad habits from your lifestyle.
It's absolutely critical that you eliminate the bad aspects of your life before adding new things (healthy habits, supplements, people) into your life.
Eliminate before adding. Always remember this.
Here's what you have to get rid of before doing anything else:
Eliminate negative self-talk
Do you talk down to yourself?
Don't feel self-conscious if you do. Just about everyone talks down to themselves. I've been really bad about this at certain points in my life.
But, please just keep in mind that how you talk to yourself has a profound effect on how you feel, think and act each day.
Maybe you repeatedly tell yourself that you're dumb, lazy or lost in life. I wasted a lot of time telling myself these terrible ideas.
Here's the reality check that you might need to hear:
If you don't treat yourself well, who else will?
You have to remove negative self-talk from your life at all costs. It doesn't matter how you do it. But, please just stop talking down to yourself. Better yet, you should treat yourself like the coolest, most fun and interesting person in the world.
Remove bad relationships
Do you have energy vampires in your life? Or, do you have "friends" who like to put you down, and make you feel bad?
Bad relationships can have a huge impact on your mood and emotions.
You need to rid yourself of bad relationships so that you can restore your energy levels, and get your life back on track without distractions.
Stop with the poor-quality food and drink
The food that you eat and the beverages that you consume are some of the biggest factors that play into how you feel every single day.
I'm not a fan of cliches. But, "you are what you eat" is one of the most truthful sayings that I know of.
Try your best to eat green vegetables, fruit, lean meat, brown rice, and seafood – and you'll feel more upbeat, sharp and fit.
But, if you decide to eat sugary pastries, pizza, and other low-quality foods, you'll probably feel like a low-quality human being.
Not to mention, these low-quality foods can make your ADHD and depression considerably worse.
Eliminate bad food from your life, and your entire outlook on the world will change for the best.
Step 2. Add healthy habits to your life
Once you've eliminated negative aspects from your life, then you'll be ready to add healthy habits to your daily routine.
These are the healthy habits that I live by, and highly recommend:
Take advantage of healthy food and drink
If you're feeling down in the dumps, there's a fair chance that your mood is being influenced by ADHD, depression or some other problems related to chemical imbalances in the brain.
So, eating healthy foods, and drinking healthy beverages is absolutely essential to stabilizing your mood.
You'll feel so much better once you commit to eating a complete diet that consists of natural, wholesome foods.
Remember that lean meats, vegetables, legumes and fruits are key. Keep your drinks to mainly water, tea and coffee, and you'll be golden.
Use ADHD or depression medication that works with your brain chemistry
I'm a huge fan of using whatever tools are available to treat depression and ADHD.
If a certain ADHD or anti-depressant medication improves your life, then you don't deserve to be judged for that.
But, here's the kicker:
You're the only person who will be able to determine if a certain type of medication works well with your brain chemistry. Of course, a medical professional will need to have a say in the matter too.
Between you and your doctor, finding a medication that genuinely works could be a life-changing experience.
Make sure to exercise daily (this needs to be a habit)
Exercise is Mother Nature's anti-depressant.
I recommend that you exercise for at least one hour every day.
But, most people can benefit from being active for hours every day.
This doesn't mean that you need to run around and work out like a mad man (or mad woman) all day long.
If you can simply get outside, catch some sunlight, and move around (dance?), you'll almost certainly feel better about your life.
Have some fun relationships
It's amazing how much of an effect positive relationships can have on your life.
Just by taking a small roadtrip, or meeting a new group of people, your life can change in an instant.
I always make it a point to do something really fun once a month, if not more.
You need to be actively creating new memories, as this is a huge part of what life's all about.
Explore new environments
Did you know that moving somewhere new, or even just getting a new apartment across town can have a huge impact on how you think and feel?
Changing your environment can play a massive role in improving depressive and ADHD symptoms.
You need to live somewhere that meshes with your personality. If you don't like where you currently live, that can actually add to your feelings of depression, ADHD and anxiety.
Change your environment, and you'll almost certainly change how you think and feel.
Step 3. Supplement with essential anti-depressant ingredients
After you've covered the fundamentals of improving ADHD and depression symptoms through food, medication, exercise and relationships, it may be time to supplement.
Yes, using the right natural supplements for ADHD and depression can have an unbelievably powerful effect on your life.
But, if you already use prescription medication, it's extremely important that you check with your doctor before adding any new supplements to your routine.
If you don't currently take any medication, most people find certain natural supplements to be safe, helpful and effective.
So, I'm going to list some of the supplements that I've found most useful for getting out of a funk as quickly as possible:
St. John's Wort
St. John's Wort (Amazon) is one of the greatest, natural mood-boosting ingredients that I take on a regular basis.
It's super easy to supplement with. It's natural. And, St. John's Wort has been shown to have similar effectiveness as standard anti-depressants with fewer side effects.
If there's one product that I recommend you supplement with right away, it's St. John's Wort.
However, make sure to only use St. John's Wort if you don't currently take medication. The reason for this is that St. John's Wort can interact negatively with many medications for depression and ADHD (like SSRI's and stimulant-based meds).
If you don't currently take medication, then you should be in the clear to use this all-natural product. However, it's always a good idea to check with your doctor before adding new supplements to your daily routine.
Carlson's Finest Liquid Fish Oil
I take Nordic Naturals Liquid Fish Oil (Amazon) because I know that it's high-quality liquid fish oil, and it tastes great too (there's no fishy taste).
I've actually raved about the benefits of using fish oil for ADHD on this website numerous times. But, I only do this because fish oil genuinely works.
Fish oil can be used to stabilize your mood, fight depression, reduce anxiety, and give you more energy.
It's also been shown that using fish oil in combination with SSRIs can be beneficial.
It's an all-around amazing wellness product that helps to heal your brain and body.
Rainbow Light Vitamin D
Rainbow Light Vitamin D (Amazon) is a must-use supplement for brain health, and for fighting off symptoms of depression, ADHD and anxiety.
I even consider vitamin D to be the best natural supplement for ADHD because it has a huge impact on your mental function.
The reality is that most people don't get enough sunlight, which also means that people don't get enough vitamin D in their system.
So, most people can immediately benefit from supplementing with 1000 IUs of vitamin D daily.
For best results, it's also a good idea to have a blood panel done, so that you can determine exactly how much vitamin D you need to take each day.
Raw Organic Turmeric Powder
Raw organic turmeric powder (Amazon) is a spice that's been used for thousands of years in Asia. It's one of the most potent, anti-inflammatory, mood-boosting ingredients that just about everyone needs to use.
Luckily for you, curcumin, which is the main ingredient found in turmeric, has also been shown to reduce symptoms of major depressive disorder (MDD) and assist in dealing with anxiety.
If you aren't taking turmeric, then you're genuinely missing out on an ingredient that can change your life. It's that powerful.
Pro tip: Make sure to add black pepper to turmeric whenever you take it. The piperine found in black pepper helps your body absorb the active ingredient found in turmeric (this active ingredient in turmeric is called curcumin). Alternatively, you might choose to take a good turmeric root supplement (Amazon) which contains curcumin and piperine in capsule form.
NAG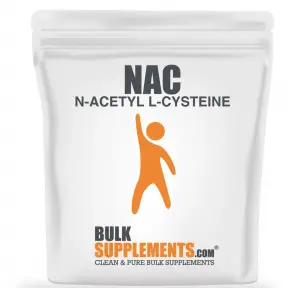 NAC (BulkSupplements) is a supplement that can be extremely useful for treating symptoms of ADHD and anxiety because it's essentially a 'mega' dose of a powerful antioxidant.
When you supplement with NAG, you'll be using N-Acetyl-L-Glucosamine to cleanse your liver, and fight off harmful free radicals.
Did you also know that there's an interesting connection between your liver and brain health?
Your liver plays a significant role in how you feel, think and act.
So, you have to make sure that you're taking great care of this vital organ.
Treating ADHD and Depression Conclusion
Treating ADHD and depression takes work. There's no getting around this fact. But, by eliminating the bad habits from your life, and adding positive habits to your daily routine, you'll be making your ADHD and depression a whole lot easier to deal with.
Plus, when you add life-changing natural ingredients into the mix (like fish oil, vitamin d, and turmeric), you'll be taking great strides to live a happier, healthier and more fulfilling life.
I genuinely hope that this article helps you heal and thrive. I know how ADHD and depression feels first-hand. And, I wouldn't wish it on anyone.
But, I also know how it feels to thrive after battling ADHD and depression – and make the most out of the one life that we have.
You still have so much to live for. I can't wait to hear from you on the other side.