Updated on: August 17, 2021
Eating healthy food is probably the single greatest thing that people with ADHD can do to think more clearly, have more energy, prevent disease, and feel really good in general.
Healthy food provides the energy for just about everything good that happens in my life.
Because, without eating healthy food, you probably won't be able to focus on your career, enjoy high-quality relationships, or live your life to the fullest.
High-quality food is also the underlying "fuel" that makes ADHD medication work better, helps you exercise, and enables you to sleep better at night.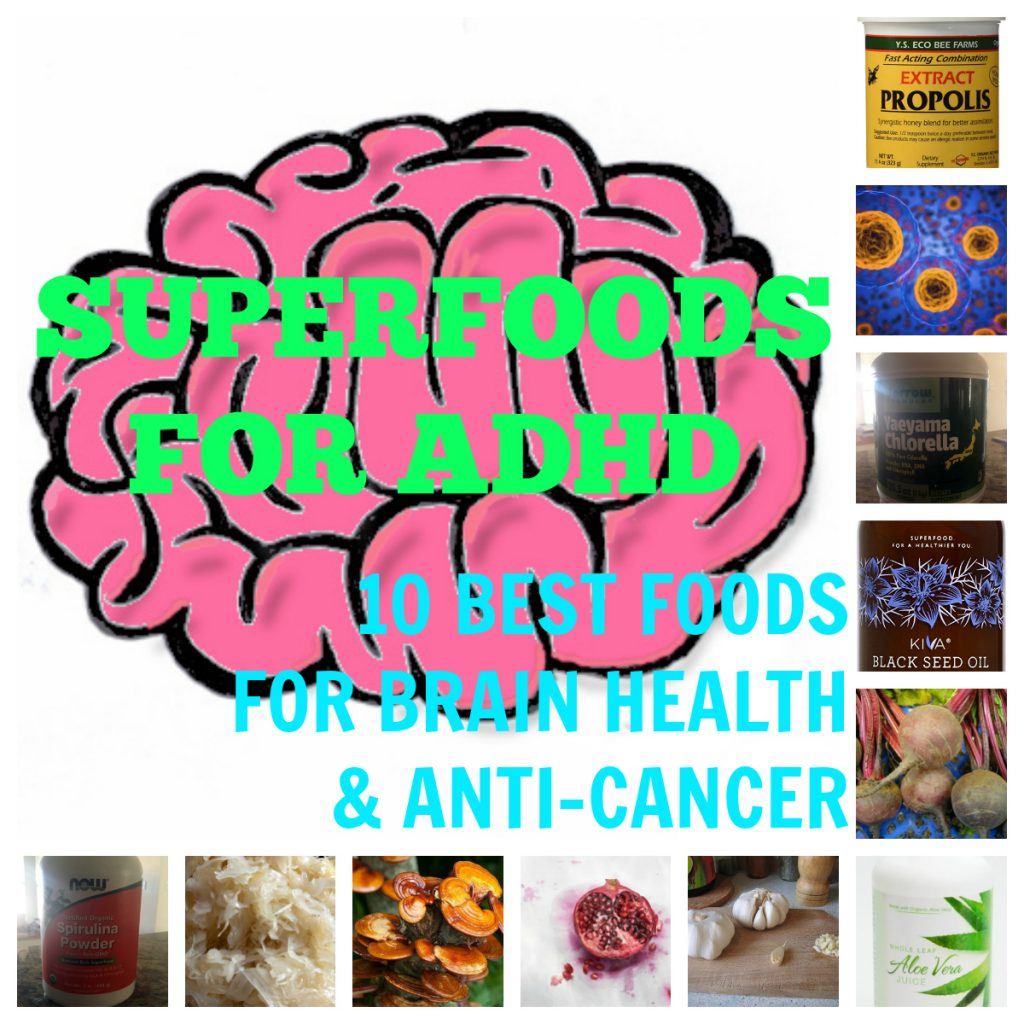 So, if you have ADHD, then you'll want to pay extra close attention to the types of foods that you eat.
But, don't worry.
Because, in combination with my article on eating a Mediterranean-style ADHD diet, this article will help you uncover the very best superfoods for ADHD.
Plus, this article will also help you understand the reasons why people with ADHD should eat foods that maximize brain health and combat disease.
Why people with ADHD should eat foods that maximize brain power and fight disease
Based on my personal life experience, and the experiences of many other people with ADHD – eating food should accomplish a few important things for people with ADHD:
Maximize brain function
Fight disease
Give you energy
Of course, there are various other reasons why you might eat certain foods.
For example, you might also want to eat foods that help you:
Burn fat
Build muscle
Reach your daily caloric intake
Make your skin and hair look good
But for the most part, people with ADHD generally want to think better and feel better every single day.
This is why I mostly focus on eating foods that improve brain function and fight disease.
Because, when you eat foods that improve your brain health and fight disease – the rest usually takes care of itself.
In other words, the same foods that boost your brain power and fight disease will generally make you look and feel good as well.
This is a major win-win for you.
The extreme importance of eating foods that fight disease
While people with ADHD typically love foods that boost brain power – I place a special emphasis on foods that fight disease.
I encourage you to eat foods that fight disease because I'm concerned about ingredients that people with ADHD encounter on a regular basis.
There are all kinds of neurotoxins, heavy metals, estrogen mimickers, and various other ingredients that people with ADHD need to avoid.
In other words – our modern day food supply chain and overall environment is loaded with health hazards that can spark disease in people.
So, fighting disease is a major priority for people everywhere.
But, fighting disease is especially important to people with ADHD, because ADHD is a condition of comorbidity.
This means that people with ADHD are at risk of having or developing additional disorders.
Here's what PubMed has to say about ADHD and comorbidities:
Many adults with ADHD also have co-occurring psychiatric disorders, including anxiety (47%), mood (38%), impulse control (20%), and substance use disorders (SUD, 15%).
It's definitely scary to see that people with ADHD are at risk of having co-occurring conditions.
But, I also think it's healthy to be realistic about your condition, and understand the massive upside that you can potentially gain by eating superfoods – in addition to continuing your current treatment plan under the guidance of a qualified healthcare provider.
Learn the surprising foods you can eat that fight disease and how to make sure you're eating them every day.
For example, eating certain superfoods can help you:
Flood your body with disease-fighting antioxidants
Excrete heavy metals from your system
Improve your gut health, mood and emotions
Potentially reduce symptoms of ADHD and anxiety
See the connection between eating quality food, fighting disease, and improving your ADHD and anxiety symptoms?
This is why I'm adamant about the fact that almost everything good in life stems from the quality of food that you eat.
The 10 superfoods for ADHD
There are hundreds of foods that you can eat to live a healthy, high energy, and fun lifestyle with ADHD.
But, this article focuses on the 10 superfoods that provide you with the greatest benefits of all.
So, eat these 10 superfoods to start boosting your brain function and fighting disease immediately.
1. Sauerkraut (raw, unpasteurized)
Sauerkraut is a type of fermented cabbage that originated in China over 2,300 years ago.
Chinese workers who built the Great Wall were some of the earliest people to enjoy the massive health benefits of sauerkraut.
If a food has been around for over 2,300 years – you can imagine that it's a good one.
But, sauerkraut is so extremely healthy for you mainly because of the fermentation process that it undergoes, which loads your gut with live probiotic cultures.
And, if you're a regular reader of this website, you might know that I rave about the benefits of lining your gut with healthy probiotics.
Because, using sauerkraut to fill your gut with healthy probiotics can help you:
Boost your immune system
Improve your mood and mental clarity
Fight degenerative diseases
Reduce stress
Improve psychiatric disorders such as anxiety, depression, autism, and OCD
Since sauerkraut has been shown to improve conditions that exist in the same realm as ADHD, there's a good chance that ADHD'ers will experience the massive benefits of the 'kraut too.
It works well for me.
The least you can do is try out some sauerkraut for yourself, and see how you feel afterwards.
Caution: Sauerkraut contains a high concentration of tyramines, which can interact with MAOIs – a type of medication commonly used to treat depression, anxiety, Parkinson's, and other conditions. Do not eat sauerkraut if you currently take or have recently taken MAOIs.
2. Spirulina (organic)
Spirulina is one of the most nutritionally rich foods on this planet.
This is why spirulina is currently being studied as a potential tool for fighting malnutrition around the world, and as a source of nutrition for space voyages to Mars.
Spirulina is actually a type of blue-green algae, which might sound gross. But, spirulina is unbelievably healthy for you.
I use Now Foods Certified Organic Spirulina Powder (Amazon) – since it works out to be a really good value in terms of the nutritional benefits that you receive for the price that you pay.
And, I pop a teaspoon of spirulina powder into just about every smoothie that I make, because of the absurd amount of vitamins and nutrients that spirulina provides you with.
Here's what you get in a single teaspoon (one serving) of spirulina powder:
220% daily value of vitamin A
190% daily value of vitamin B-12
8% daily value of iron
2 grams of protein
Chlorophyll
GLA (an omega-6 fatty acid)
Amino acids
Enzymes
Trace elements
Plus, a study from the University of South Florida shows that spirulina has the potential to reduce brain damage after a stroke. This is an awesome sign for people who are concerned about maximizing brain health.
And, another study shows that spirulina may have therapeutic effects on people with non-alcoholic fatty liver diseases. Interestingly, there is a lot of growing research involving the connection between psychological wellbeing and liver health. So, one can assume that regularly detoxing your liver using spirulina may improve your psychological wellbeing, and help you live an all-around better life with ADHD.
At the very least, taking spirulina will load your system with healthy vitamins and nutrients.
At best, taking spirulina may reduce brain damage, fight liver disease, and improve your overall quality of life.
3. Aloe vera juice (organic, unrefined)
When you think of aloe vera juice (Amazon), you might think of trying to heal sunburn, or soothing your dry skin.
And, while the topical benefits of aloe vera juice are quite amazing, did you know that you can use organic aloe vera juice internally as well?
According to Global Healing Center, aloe vera juice is an extremely beneficial medicinal "food" that can help you:
Fight internal inflammation
Build immunity
Treat gastrointestinal problems
Reduce acidity and improve your body's alkalinity
People with ADHD will probably come to appreciate all of these health benefits. But, aloe vera juice's ability to improve learning, memory and depression is probably most relevant to those with ADHD.
This aspect of aloe vera juice is extremely exciting – because aloe vera juice may be one of the least expensive and most effective juices that you can consume to boost your brain function. Aloe vera juice is actually great for college students or parents who are in search of a budget-friendly brain booster.
Plus, aloe vera juice also contains a range of minerals, nutrients, and antioxidants that can help with various other bodily functions.
For example – aloe vera juice is known to help regulate blood sugar levels, improve oral health, promote cardiovascular health, and more.
And, while aloe vera juice is a relatively inexpensive product to pick up at your local health food store, it's still important to make sure that you purchase an organic and unrefined version of aloe vera juice.
Because, you'll definitely want all of the raw nutrition that comes with this natural healing food.
4. Black seed oil (organic, raw, cold-pressed)
According to GreenMedInfo, black seed oil is a potentially life-saving medicinal food that can kill bacterial infections, rid the body of chemical poisons, stimulate new cell growth, and provide many other unbelievable health benefits.
Kiva Organic Raw Black Seed Oil (Amazon) is my favorite source of black seed oil – which could turn out to be the most important oil that you use in your lifetime.
This raw black seed oil is imported from Turkey, which is where nigella seeds have been used as a health remedy for about 3600 years.
For an amazing source of omega fatty acids, antioxidants, vitamins, and trace elements – you can take one or two teaspoons of black seed oil every day. I take one teaspoon of black seed oil in the morning, and one teaspoon at night.
Many people also like to rub black seed oil onto their skin, which can help with some cases of eczema or psoriasis. Applying black seed oil topically can also help with anti-aging and overall skin health.
But most importantly, the most compelling benefit of using black seed oil seems to be in the fight against disease. A number of studies have shown that nigella sativa (the flowering plant responsible for black seed oil) is effective against diseases like cancer, cardiovascular complications, diabetes, asthma, kidney disease etc.
In other words, black seed oil could be the most protective "shield" that you have in the fight against deadly diseases.
But, how does black seed oil specifically help people with ADHD?
Well, nigella sativa (or black seed oil) has been known to:
Prevent Alzheimer's associated neurotoxicity
Protect cultured neurons from synaptic toxicity induced by Parkinson's disease and dementia
Kill brain cancer cells
Suppress liver cancer growth
Improve the mood of people with autism or anxiety
Basically, there's tons of amazing research that suggests black seed oil can fight brain diseases, protect your brain against damage, and possibly even improve brain function.
And, because ADHD is considered a brain condition, there's a chance that black seed oil may be extremely helpful to certain people with ADHD.
5. Chlorella (organic)
Chlorella is a type of freshwater algae that's similar to spirulina. But, chlorella is a little bit different from spirulina in a few exciting ways.
First of all, chlorella is absolutely loaded with nutrition. It contains vitamin A, vitamin B2, vitamin B3, magnesium, zinc, iron, protein, and more. I like Jarrow Formulas Chlorella (Powder or Capsul).
Secondly, chlorella is primarily known for its ability to help people detox heavy metals from their system. Chlorella binds to heavy metals and unnatural chemicals in the body. This can help you get rid of entirely unnecessary and downright dangerous heavy metals like lead and mercury.
According to Dr. Axe, supplementing with chlorella can also:
Promote healthy hormone function
Improve cardiovascular health
Help regulate blood pressure
Fight cancer
Boost your immune health
The nice thing about chlorella is that it can work synergistically with spirulina, if you're interested in supplementing with both of these superfoods at the same time.
If you'd prefer to just use chlorella on its own, you'll still get to experience one of the healthiest foods on this planet.
Most people with ADHD will enjoy having access to a tremendous amount of nutrition with just half a teaspoon of chlorella powder. Yes, just half a teaspoon of powder is equal to one complete serving of chlorella.
This makes chlorella an extremely convenient source of nutrition, because of how frequently people with ADHD skip meals, forget to eat, or need access to a quick and easy source of nutrition on the fly.
When I'm making smoothies, I personally use Jarrow Formulas Yaeyama Organic Chlorella (note: this product has become somewhat difficult to find). Nowadays, I use…
Anthony's Organic Chlorella Powder (Amazon).
And, if possible, I recommend mixing chlorella into smoothies whenever you can, because chlorella has a pretty strong taste. But, as long as you're able to blend chlorella into green vegetable or fruit smoothies – you'll hardly even notice the taste of chlorella.
Plus, once you get used to drinking chlorella smoothies, you'll probably start to develop an awesome sense of well-being.
Many people who drink chlorella smoothies report feeling a little bit bubbly, happy or "content".
There's something really special about the impact that chlorella can have on your mood and life.
6. Bee propolis (raw, organic)
According to Dr. Axe, bee propolis is a therapeutic natural mixture that's produced by honey bees.
Honey bees actually combine beeswax and saliva with a few different substances from plants and trees – and then use their propolis mixture to guard their hive against intruders.
But, this same propolis mixture produced by bees can also be used to prevent and treat all sorts of health conditions in humans.
For example, bee propolis is:
Antioxidative
Antimicrobial
Anti-tumor
Anti-ulcer
And in case you're wondering, bee propolis isn't anything new.
Bee propolis has been used since 350 B.C. to treat abscesses, heal wounds and tumors, and even mummify ancient Egyptians.
This is an amazing homeopathic medicine that can ultimately prevent disease, boost the immune system, and fight inflammation.
I take Y.S. Eco Bee Farm Propolis Extract Natural "Honey Paste" (Amazon) regularly. Especially during cold seasons, or when I feel like my immune system needs a boost.
I also know that bee propolis is effective for many people who use ADHD medication.
Because, when I used to take Vyvanse for ADHD, my immune system always felt a little bit compromised, and I was more susceptible to getting sick.
So I used to take a lot of bee propolis because of how well it worked at keeping me healthy while using ADHD medication and dealing with high levels of stress.
Now, I still use "maintenance doses" of bee propolis to keep my immune health in check, and help my body fight disease. And, I'm willing to bet that most people with ADHD will find bee propolis to be equally useful.
7. Beets (conventional or organic)
Beets are like a natural "super energizer" for people with ADHD.
This is because the nitrates found in beets improve your body's nitric oxide levels, boost overall blood flow, and optimize your testosterone and estrogen levels.
Beets also contain antioxidants like betaine, which can help you cleanse and detoxify your liver.
I love making beet smoothies right before going to the gym. Beets are so energizing that I actually crave physical stimulation after chugging down a beet smoothie.
Plus, the mental clarity that you experience after consuming beets is powerful. You'll feel sharp, focused, and ready to accomplish whatever you need to achieve.
Unfortunately, beets taste pretty terrible. This is the one problem that I have with beets. I'm usually pretty good about being able to eat or drink just about anything regardless of taste. But for some reason, the taste of beets is almost unbearable to me.
Either way, I don't let the taste of beets stop me from eating or drinking beets.
The health benefits that you get from beets are far too amazing to miss out on.
Even with the nasty taste, it's well worth eating beets at least a few times every week.
8. Pomegranates (conventional or organic)
Pomegranates are one of my favorite fruits of all time.
They taste great, make you feel great, and may even counteract some side effects that stem from using ADHD medication.
What could be better than that?
To get a little bit more specific, here's exactly how consuming pomegranates can help you…
Eating pomegranates can help you:
Maintain healthy blood circulation
Heal heart-related problems
Fight cancer and other common illnesses
Improve sexual health
Fight dental plaque and oral diseases
If you take stimulant-based ADHD medication, then you'll probably want to focus on improving your cardiovascular health.
And, eating pomegranates is an amazing way to help your cardiovascular system thrive.
Plus, with the influx of vitamin C, vitamin A, folic acid, vitamin E, and various other nutrients that pomegranates provide you with – this is an all-around powerhouse fruit that can help people with ADHD solve a number of health issues.
9. Garlic (raw)
Garlic is stinky. I know.
But, garlic is also a magical, medicinal food that can:
Most notably for people with ADHD – garlic's potential to fight brain diseases is really intriguing.
Some of the latest research on garlic's brain benefits show that garlic has the potential to inhibit brain cell damage that's caused by stress.
Isn't that amazing?
Between work, career, ADHD medication, family life, and relationships – people with ADHD tend to live extremely high stress lifestyles.
But, you can now potentially protect your brain from cellular damage just by eating a few cloves of garlic every day.
I think this is really, really awesome.
When it comes to actually eating garlic – it's usually best to eat raw garlic, since heating garlic has been shown to reduce its anticancer properties.
You can just spread some raw chopped garlic over buttered toast if you like. This makes for a super simple and healthy snack.
But, when you get a little bit of free time, making a basil-walnut pesto sauce with extra garlic is the absolute tastiest way to eat fresh garlic.
Just mix your basil-walnut pesto sauce with some whole grain penne pasta, and you'll be set for dinner.
10. Reishi mushrooms (conventional or powdered)
Reishi mushrooms are a powerful type of herbal mushroom that can regulate your immune system, improve organ function, and even fight tumors.
These mushrooms are actually one of the fundamental healing ingredients of Traditional Chinese Medicine (TCM).
Reishi mushrooms have also been safely consumed for thousands of years, with no reported contraindications at this time. They are designated as Generally Recognized as Safe (GRAS) by the FDA. But of course, it's always worth checking with your doctor before consuming reishi mushrooms.
For people with ADHD – reishi's most attractive benefits include the ability to improve anxiety symptoms, and work as an adaptogen to bring your entire body into a state of "balance".
However, it's also worth noting that reishi mushrooms can improve cardiovascular health as well. I know that heart function is a major point of concern for people who use stimulant-based ADHD medications. So, eating reishi mushrooms may help you in this regard.
Plus, with reishi's ability to help with adrenocortical function, and even help you manage insomnia or similar sleep conditions – this is an all-around stunning superfood that's perfect for people with ADHD.
Final thoughts
Overall, I hope these foods help you live a healthier, happier, and all-around better lifestyle with ADHD.
Quality food fuels almost everything that I do in life – including the creation of this website.
So, I practically live by the 10 ADHD superfoods listed in this article. And I hope that you find the time to try one or two of these superfoods too.
You'll feel a lot better once you do.
One last question before you go…
Are there any other superfoods that help you with ADHD?
Make sure to leave your comment in the comments section below!