Updated on: December 23rd, 2019
One of the best tips that I can give people with ADHD is to follow your strengths, not your passion. I'm practically obsessed with the fact that you have to follow your strengths in order to find success with ADHD.
But, aren't you supposed to do what you love? I thought that if you just do what you love, and follow your passion, everything will be okay?

– Almost everyone
Yup. You should do what you love. But, doing what you love begins with doing whatever you're good at first.
Just think about something you're really good at. Maybe it's exercising, cooking, working an office job (unlikely) or even selling stuff on eBay.
Odds are strong that you love whatever it is that you're already good at.
And, if you genuinely follow that strength, and truly commit to it, good things typically happen.
So, forget about those passions for now.
Got it? Sweet. I have three more secrets for you, so that you can learn how to actually find success with ADHD.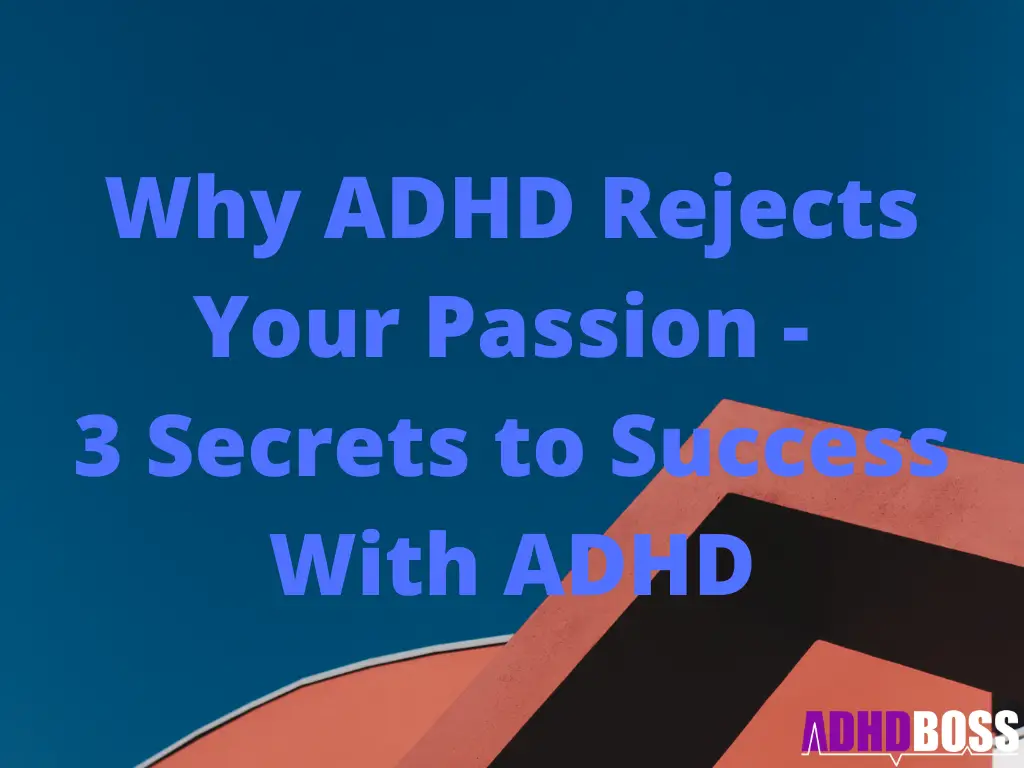 Secret #1. Start writing in a daily journal
There's something really powerful about the connection between writing in a nice basic journal (Amazon), and training your subconscious mind to accomplish whatever you want in life.
Scores of successful entrepreneurs, professional athletes and creatives swear by the act of writing down daily affirmations, business ideas, or simply whatever thoughts come to your mind.
One of my professors in college practically forced my classmates and I to write down ideas in a journal every week. It changed my life. I really owe him for that.
When you start to write in a journal, you too will begin to understand the secret that so many high-achieving people "get".
It's almost scary how much the simple act of physical handwriting can improve your life (yes, even with ADHD). You probably won't believe it until you try it for yourself.
Pro tip: Owning a good pack of pens like Uni-Ball Vision Elite Rollerball Pens (Amazon) is probably the best way to encourage yourself to write in a journal every day. With a good pen, you'll genuinely enjoy the process of writing in a daily ADHD journal (make this a habit, and stick with it).
Secret #2. Start to love failure (so that you can inevitably win)
People with ADHD are terrified of failure.
I think this happens because many of us with ADHD have dealt with embarrassing childhood experiences, and similar traumas that continue even through adulthood.
I'm not a psychologist. But, any psychologist will tell you that many of our problems can be traced back to childhood.
So, if you can train your brain to start to love failure, you can gain a major leg up in many areas of your life (school, work, dating etc.)
Read the book How to Fail at Almost Everything and Still Win Big (Amazon) to learn more about the importance of failing, and how you can create a "system" that puts the odds of success in your favor.
Secret #3. Try meditating for two minutes a day (and work your way up)
Asking people with ADHD to meditate is like trying to get a Chick-fil-A chicken biscuit on a Sunday.
It's probably not happening.
But, I trust that you're a little bit different, since you hopefully enjoy reading ADHD BOSS (and you like actionable ADHD advice).
Well, this right here is as real as it gets:
Meditating works wonders for people with ADHD.
I'l say it again (in slightly different terms):
Meditation is a borderline miracle for people with ADHD.
If you can fight through the initial mental pain of meditating, it will become easier, and your life will get a whole lot better afterwards.
Practicing mindfulness truly is a grind, especially with ADHD. But, it's also an unbelievably powerful skill that will help you reduce stress, improve your focus, and make you feel like you have a superpower (you'll feel more connected to people on a human level – I'm dead serious).
Pro tip: Transcendental Meditation is the easiest form of meditation for people with ADHD to learn because it only requires that you focus on your breathing in order to meditate (rather than require you to "clear your mind" or do something similarly impossible when you have ADHD).
Achieving Success With ADHD Conclusion
I'm a big fan of the Pareto Principle, which is more commonly known as the 80/20 rule.
The 80/20 rule basically indicates that 80% of your success in life is driven by only 20% of the actions that you take.
In other words, there are a select few actions that you take each day, which probably accounts for the vast majority of your success in life.
So, it's for this reason that I make sure to apply the 80/20 rule to everything that I possibly can. Because, I know just how important it is to leverage every single strength that's available when you have ADHD (since I tend to screw up a lot of the time).
And, if I had to guess, I would say that the 3 secrets listed in this article account for 80% of my personal success.
Yes, I truly believe that writing in a journal, loving failure, and meditating are 3 of the dirtiest little secrets to success with ADHD.
I hope that this article helps you find direction in your life, and encourages you to achieve success with ADHD.
We're all in this together, after all, and I figure it might be useful if we can help each other out along the way.