Last updated: November 27th, 2019
All your life, you've been taught to believe that setting goals is the key to success.
In school, you were instructed to turn in your homework by a certain due date.
In your career, you're probably given "target goals" or "milestones" that you're supposed to achieve by a certain deadline.
In your personal life, you might even have daily, weekly, or yearly goals that you want to accomplish.
There's nothing inherently wrong about setting goals. Goals can serve as a "guideline" that keep you moving in the right direction.
But, there's one major issue with setting goals that you need to be aware of (especially if you have ADHD)…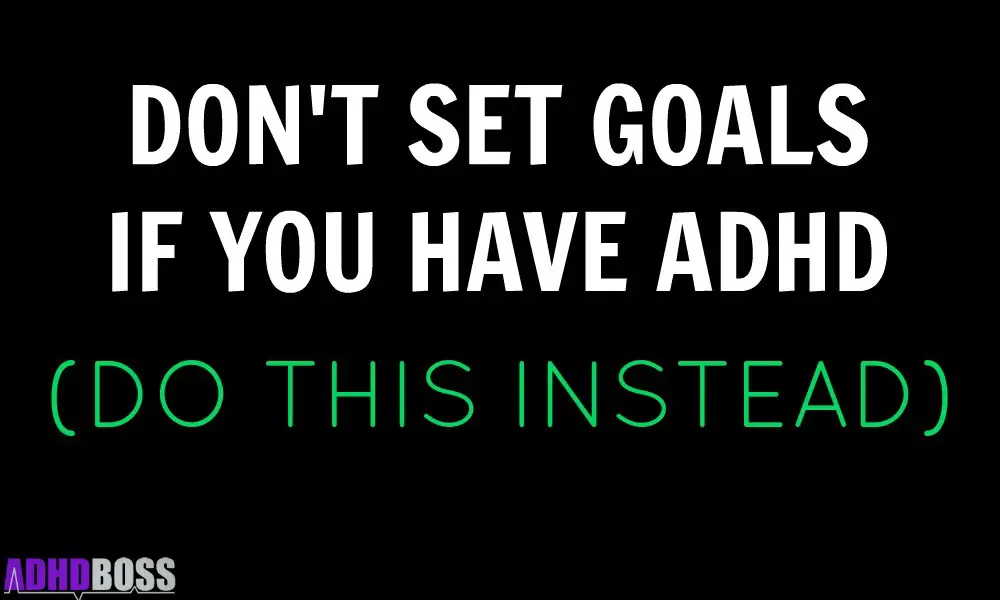 The problem with setting goals
The problem with setting goals is that goals make you feel bad whether you achieve them or not.
If you don't achieve your goal, then you feel like a worthless human being. You weren't "good enough" to achieve your goal.
If you do achieve your goal, then you get to enjoy a short-lived "high" that lasts for about 24 hours. But, what's even worse is that once you achieve your goal, and your temporary "high" wears off, you return to feeling bad because…
1. You no longer have a goal to achieve
or
2. You suddenly have a new goal to achieve, and you have to repeat the vicious cycle of achieving a new goal
Setting goals is a lot like trapping yourself in a cycle of mental pain – which is the exact kind of thing that people with ADHD need to avoid.
Why people with ADHD need to create systems rather than goals
There's been a lot of talk about "building systems" in the media lately.
This is because building systems allows you to get what you want out of life without living in a perpetual state of mental pain.
Media outlets like Lifehacker and The Guardian have both published good articles on building systems.
"Systems building" is the strategy that I personally use to create new content for ADHD Boss, exercise, eat healthy, socialize, and live life to the best of my ability.
The premise of building systems is really simple:
By focusing on performing specific actions rather than accomplishing goals, you will live a much healthier, happier, and more successful life.
For example:
> Instead of setting a goal to have more friends, you decide to attend at least one social "meet up" every week (social system)
> Instead of setting a goal to get a job that you love, you apply for at least one new job every day (career system)
> Instead of setting a goal to be more likable, you watch 20 minutes of stand-up comedy every night (fun system)
> Instead of setting a goal to be healthier, you do 15 minutes of bodyweight exercises every morning before you shower (health system)
See how easy it is to create systems that push you in the right direction without causing you to undergo unnecessary mental pain?
The dirty secret here is to build "bare minimum" systems that are extremely easy for you to execute.
Because, as long as you fulfill the requirements of your system every day, you will feel very good about yourself. This will help you stay motivated with ADHD over the long-term, too.
Some people believe that executing a system is the same thing as working towards a goal. But, the difference is clear:
Systems give you a sense of immediate progress, while goals keep you in a perpetual state of agony.
As long as you successfully execute your system five days per week, you'll be able to experience tangible results, and improve your chances of fulfilling the greater vision that you've set for your life.
And, even if you don't always execute your system in the way that you'd like to (you underperform), that's perfectly fine too.
As long as your system works well for you, and you're successful with your system most of the time, that's all that really matters in the end.
How to create your first system if you have ADHD
People with ADHD have been indoctrinated with "goal setting" for many years.
So, "systems building" is something that can take a few weeks, months, or even years to perfect.
But, the good news is that creating your first system is super easy.
Tim Ferriss, the famous author who's best-known for writing The 4-Hour Workweek, has an amazing system for publishing best-selling books.
He writes just two crappy pages per day.
It's extremely comforting to know that high performers like Tim Ferriss build "bare minimum" systems, because this means that you don't always have to do a lot in order to get great results for your life.
In other words, Tim Ferriss understands the importance of setting the barrier low, so that you can easily surpass your own expectations (if you want to).
So, the first system that you create will obviously depend on the specific vision that you have for your life, career, relationships, or virtually anything else.
The most important thing to keep in mind is that you need to start small, keep your expectations low, and focus on taking specific actions.
Systems are dependent on you taking action rather than setting goals.
For example, here are some specific actions that you can use for creating your first system:
Drink one green smoothie per day
Do 15 push-ups every morning
Play volleyball every Thursday night with friends
Make small talk with at least one

new person

every day (can be anyone)
Read 15 pages of a book every night before going to bed
Go out for drinks every Saturday night
If you follow this example system for just one month, you'll probably become healthier, more socially active, and well-read.
But, the real magic happens when you create your own system, and continually tweak it until you're able to "design" the lifestyle that you want to live.
Building a system and continuously refining your system is one of the most powerful actions that people with ADHD can focus on.
Final thoughts
I first learned about building systems in the book How to Fail at Almost Everything and Still Win Big (Amazon).
This book, which is written by Scott Adams, is one of the greatest "life success" books that I tell everyone with ADHD to read. Regardless of your age, experience, or current station in life.
It provides a complete breakdown of why you should build systems for your life, and how to build systems.
The book also provides some amazing insights about building complementary skills ("talent stacks"), improving your odds of success, working a great career, and so much more.
After reading the book, you'll probably come to realize that your life is a series of systems.
Everyone has systems.
But, you can become conscious of the systems that perpetuate your life. And, you can "tweak" your systems until you're able to live the kind of life that you dream about.