Last updated: July 22, 2021
While I've already published an article that covers the side effects that Vyvanse may cause, this article reveals how to reduce Vyvanse's side effects, and live a life that's free from stress and worry in 2020.
This article covers the following important topics:
How to reduce Vyvanse side effects using little-known supplements that actually work
How to use exercise to negate the end-of-day crash that Vyvanse gives some people
How to use a simple 'mental trick' to eliminate

a lot

of stress and worry from your life
How to sleep with peace of mind
How to use breathing exercises to instantly kill feelings of anxiety
Alright, let's get started: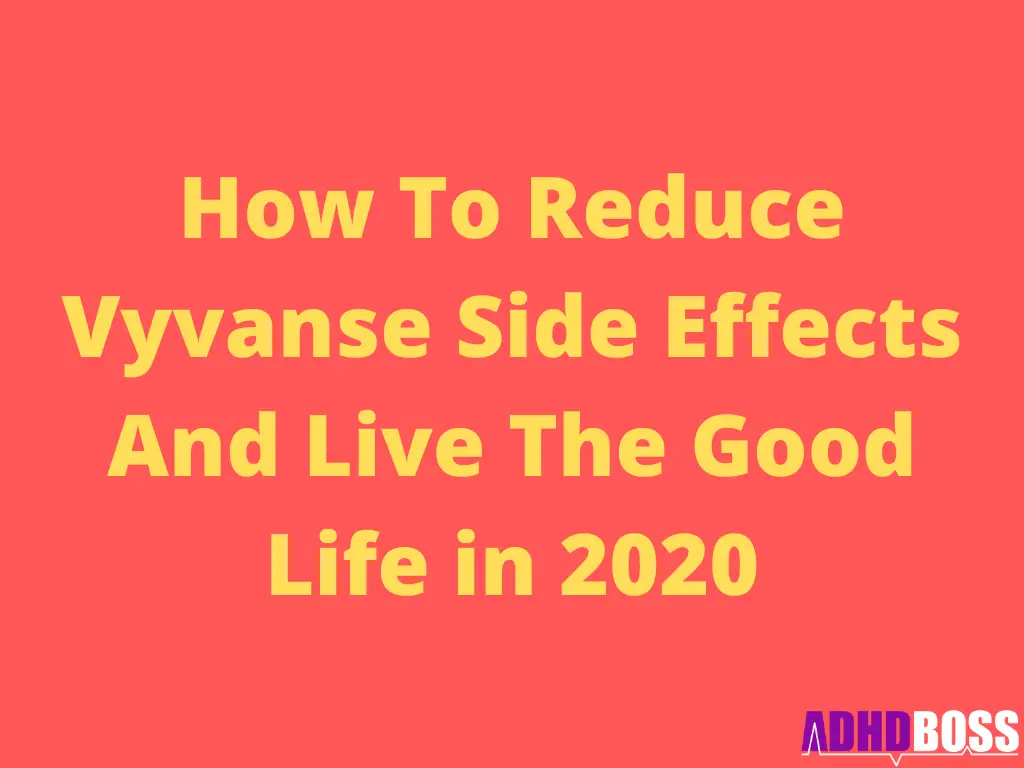 How to reduce Vyvanse side effects using high-quality supplements and products
This is where I'll list the supplements that I consistently use to improve Vyvanse's side effects.
I'm going to give you the name of each supplement or product that I personally take, and also explain the reason why you'll want to take it too.
Thorne Research Magnesium Citramate
Some people report that they feel like their heart beats a little bit fast after taking Vyvanse. First of all, if you believe this is a problem for you, then you should see a medical professional as soon as possible.
However, for people who merely worry about the possibility of having heart palpitations after taking Vyvanse, I recommend two things:
First, you should limit your dose of Vyvanse to the minimum amount that still gives you positive results.
Second, you should take 2 capsules of Thorne Research Magnesium Citramate (Amazon) nightly.
Magnesium citramate is a compound that's amazing for your cardiovascular system. It's affordable, highly-effective, and great at regulating your heart rate. Not to mention, taking magnesium citramate will also reduce your anxiety, make you feel less sore after working out, and give you more mental clarity.
Spry Dental Chewing Gum
Many people who take Vyvanse also claim to experience dry mouth and/or bruxism (teeth grinding).
Chewing gum is a super simple solution that will help you limit this side effect.
I chew Spry gum (Amazon) because it uses xylitol instead of sugar, so it's a lot better for your health. It makes your breath smell minty fresh too.
Rainbow Light Vitamin B Complex
Don't take this the wrong way. But, most people with ADHD have some wacky brain chemistry going on. No worries – I'm included in this 'fun' segment of the population too.
I find that along with regular exercise, taking a food-grade vitamin B complex supplement from Rainbow Light (Amazon) is one of the best ways to regulate your mood, thoughts and emotions.
Note: If you currently take Vyvanse, make sure to take your vitamin B supplement in the evening, or at a time when it won't interfere with your medication. I like to take my vitamin B supplement around 5 p.m. or so – right around the time when the work day is ending.
Carlson Labs Liquid Fish Oil
Taking fish oil will improve your cardiovascular system (heart), brain function (ADHD), and your mood. It will also provide you with plenty of other benefits that I've written about in a separate article covering the importance of taking fish oil for ADHD.
The key thing to keep in mind is that everyone with ADHD should take a high-quality fish oil supplement on a regular schedule. It's that important of a supplement to use.
I like Carlson Labs Liquid Fish Oil (Amazon) because it's high-quality, tastes good, and doesn't require me to gag on yet another pill.
Jarrow Milk Thistle
Taking milk thistle can help you detoxify your liver, which will have a profound effect on your entire body (even if you can't 'feel' it working).
It's a good idea to take a capsule of milk thistle once per day, since there's evidence that suggests the health of your liver can even impact how well your brain functions.
I recommend taking Jarrow Milk Thistle (Amazon), as this is a trusted, reputable product that I continue to use to this day.
Rainbow Light Vitamin D3
Vitamin D3 is one of the first supplements that my doctor told me to take, after a blood panel showed that I wasn't getting nearly enough sunlight.
After supplementing with vitamin D, I could almost immediately tell that my mood was better, and I was thinking a lot more clearly too. Eventually, I started to refer to vitamin D as the best natural supplement for ADHD (because it's that good).
Now, I switch between using Rainbow Light Sunny Gummies (Amazon) and Pure Encapsulations Vitamin D3 (Amazon).
But, as long as you're taking a high-quality form of vitamin D, and getting your blood panels done regularly, you should be in great shape.
Melatonin (optional)
I typically recommend taking magnesium instead of melatonin when it comes to getting great sleep with ADHD.
However, I do recognize the awesome benefits of using melatonin on occasion (like when you find it really difficult to sleep).
Melatonin isn't supposed to work as a sleep aid. So, that's why it's perfect for occasional use. You shouldn't have any problem with taking melatonin once or twice a week if it truly helps you sleep.
When it comes to sleep, I'm a firm believer that doing whatever it takes to get to sleep is a better option than not getting any sleep at all. There's nothing worse than feeling like a total zombie for a day. Plus, getting high-quality sleep plays a large role in reducing the side effects of Vyvanse.
It's for this reason that I'm a fan of using Source Naturals Melatonin (Amazon) on an as-needed basis.
How to kill your end-of-day Vyvanse crash with exercise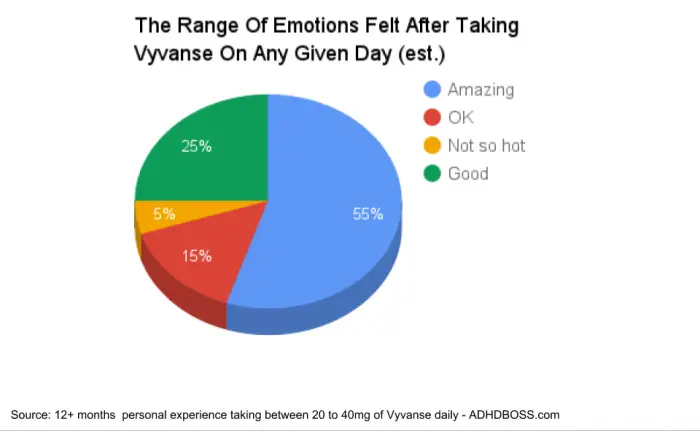 One of the biggest complaints about Vyvanse is the end-of-day crash that many people experience.
The tired feeling that you may get after taking Vyvanse is usually felt at around 5 p.m. or 6 p.m. – when the day is just beginning to wind down, and you aren't feeling so hot anymore.
Some doctors actually prescribe a booster dose of separate ADHD medication to deal with this, which is definitely a viable option.
But, I choose to take a more holistic approach to dealing with the Vyvanse comedown. I recommend good old fashioned exercise as soon as you get off of work.
Hitting the gym and doing some strength training and cardio exercise will help to circulate your blood, release endorphins in the brain, and make you feel a lot better.
The 1 mental trick that can eliminate stress and worry about taking Vyvanse
People with ADHD tend to use Vyvanse because it's one of the most effective ADHD solutions available.
While it's normal to experience some amount of worry about using any prescription medication, I think that if you're going to use Vyvanse, then worrying is only going to exacerbate any potential issues you may be facing.
My point is that worrying won't do anything for you, except add unnecessary stress and uncertainty to your life.
After I read the book How to Stop Worrying And Start Living by Dale Carnegie (Amazon), I felt a lot better about Vyvanse and life in general.
It's absolutely possible that the act of worrying can even create problems in your life. Read the book, and you'll find out just how important it is for your mental well-being to stop worrying and start living today.
How to sleep well after taking Vyvanse almost every night
Everyone occasionally has those nights where it feels impossible to sleep. This is absolutely normal, and tough for anyone to avoid.
But luckily, I've generally had a very good experience with ADHD and sleep – especially when I take Vyvanse.
I think that Vyvanse helps me straighten out so many of the small details in my life (work, relationships, hobbies) that it allows me to rest easier knowing that things are in order.
To sleep well after using Vyvanse, try your best to accomplish these activities (or a personal variation of them) before going to bed:
Tire yourself out using exercise (I like to do bodyweight squats and pushups a few hours before sleeping)
Take your daily supplements (remember to take magnesium citramate at night)
Spend some time outside in the sunlight
Do the best that you can to take care of your work, hobbies and interests for the day, and go to sleep knowing that you gave the day everything that you had (leave nothing behind)
Visualize where you want to be in life and write out your affirmation 15 times
Read a self-help book or even fiction
As long as you're doing your best to make positive improvements in your life, you should be able to rest a lot easier knowing that you're moving closer towards your goals.
How to use breathing exercises to instantly kill feelings of ADHD-induced anxiety
Anxiety and ADHD are somewhat related disorders, so it's normal for people with ADHD to experience anxiety-related thoughts and feelings.
One of the absolute greatest practices that I've recently taken up is deep breathing, which greatly helps to combat feelings of anxiety.
I'm specifically referring to the 'Wim Hof style' of deep breathing. Wim Hof is an expert on the relationship between breathing and the human mind. Best of all, he can back up everything that he claims, because he holds several unbelievable world records.
Taking deep breaths in through your nose, and then exhaling through your mouth, is almost as beneficial as meditating or even going on vacation. Deep breathing will calm your mind, stabilize your heart rate, and help to reduce your Vyvanse side effects. It's that powerful.
I highly recommend reading as much into Wim Hof style breathing if you can. It will have a profound impact on your life. And yes, Wim Hof style breathing can even help you reduce your Vyvanse side effects.
Conclusion
I genuinely hope that this article helps you stop worrying so much about Vyvanse side effects, and start enjoying the benefits of taking the medication.
The point of using Vyvanse is to live a life that's free from the downsides of ADHD.
While the medication may not be perfect, I think that it's one of the best options that ADHD sufferers have to live an exceptional lifestyle.
Because, if you decide to treat your ADHD symptoms with Vyvanse, and then learn how to reduce your Vyvanse side effects effectively, you most likely won't even have time to think about the downsides of using this medication.