Last updated: April 2nd, 2020
If you have ADHD, then your brain probably doesn't produce enough dopamine by default. Therefore, people with ADHD sometimes need big and bold rewards in order to trigger dopamine production, and develop lasting motivation.
Dopamine is a very serious need for people with ADHD. Because, if you don't find healthy ways to get your dopamine, then you might end up using negative rewards to acquire your dopamine (usually through sugar and television).
So, this article dives into the following important topics:
The relationship between ADHD and dopamine
10 healthy rewards that your ADHD brain will love
The 3 most common negative rewards that people with ADHD need to avoid
The truth about using ADHD medication to boost dopamine levels
Let's get started…
The relationship between ADHD and dopamine
Dopamine is a neurotransmitter that motivates you to seek out rewards (1).
It's commonly accepted that the ADHD brain does not produce enough dopamine by default.
In fact, some physicians like Dr. Gabor Maté actually believe that ADHD is caused by a deficit of dopamine in the brain. In his book Scattered Minds, Dr. Maté explains that people with ADHD have trouble producing dopamine because of a neuroplastic adaptation to stress experienced prenatally, or during early childhood. And because our brains were likely stressed during our most formative years, we now have trouble performing under normal conditions today.
For example, the dopamine deficit in the ADHD brain is thought to be the reason why most people with ADHD have issues with motivation, task avoidance, starting on projects, and many other seemingly normal aspects of life.
We need dopamine in order to get things done. Actually, we need lots of dopamine in order to get things done.
Because your brain most likely doesn't produce enough dopamine, you may need to seek out big and bold rewards that trigger dopamine production, and motivate you to get the most out of your career, personal life, and aspirations.
It took me a very long time to realize this. I spent most of my life wondering why I wasn't motivated enough to take care of my coursework, and pass my college classes, while my peers blazed by me in school.
Finding the Right Dopamine Sources
Finding the proper motivations and rewards (sources of dopamine) is one of the most helpful exercises that people with ADHD can do. Figuring out the right motivations and rewards will stick with you for a lifetime, and help you stay on a great path in life.
Think about these questions for just a moment…
Why do you wake up in the morning?
Are you on a path that actually motivates you?
What kind of rewards do you actively seek out?
Do your current rewards provide you with better health, relationships, and freedom?
These are difficult questions to answer. But, it's very important that you consider these types of questions. Make sure to read this article to the very end so that you can figure out which rewards provide you with the long-term motivation that your ADHD brain craves.
10 healthy rewards that your ADHD brain will love
Here are the 10 healthy rewards that trigger dopamine production.
Your ADHD brain is going to love these healthy rewards.
These rewards will provide your ADHD brain with much-needed dopamine, and genuinely improve your life at the same time…
Healthy reward #1. Travel
People with ADHD love to travel, because traveling provides your brain with massive amounts of novelty and stimulation.
When you travel, your brain is forced to interact with new scenery, sounds, people, customs, languages (if traveling internationally), and so much more…
Traveling is very healthy for the ADHD brain. It's probably the most exciting way to stimulate your ADHD brain in the shortest amount of time possible.
Plus, when you travel, you get to "leave behind" all of your old relationships, work projects, and stress. This helps your ADHD brain and body experience a "total reset".
And, the best part about traveling is the anticipation leading up to your travel date. As soon as you book a trip, you'll experience a strong emotional boost that lasts through the duration of your trip.
Healthy reward #2. The winner effect
According to cognitive neuroscientist Ian Robertson, winning increases your brain's dopamine receptors, makes you smarter, and more confident (2).
When you win at something, your brain releases large amounts of dopamine and testosterone.
Over time, winning actually changes your brain's structure and chemical makeup. Winning encourages you to take on bigger and bolder challenges.
Robertson even goes as far as explaining that winning is more powerful than genetics and drugs.
Believe it or not, the winner effect is a well-studied aspect of biology. In biology, the winner effect takes place when animals win fights against weaker opponents, and gain a psychological advantage in defeating stronger opponents as time goes on. The winner effect applies to humans as well, since humans share 99% of DNA with chimps (3). We are all animals.
The key is to start winning at small challenges first, and work your way up to larger obstacles.
Anyone can win at small things like:
Taking on an important client at work
Beginning a project that you've been procrastinating on
Negotiating a good deal for your apartment lease, car payment, or restaurant bill (anyone can ask for a discount)
There are so many ways to pick up "small wins" that boost your dopamine over time. Eventually, your small wins will give you a psychological edge that enables you to overcome even bigger challenges in the future. Overcoming these bigger challenges will provide you with even more dopamine, and the upward cycle continues.
Use the winner effect to your advantage. Start creating small wins for your life today.
Healthy reward #3. Caffeine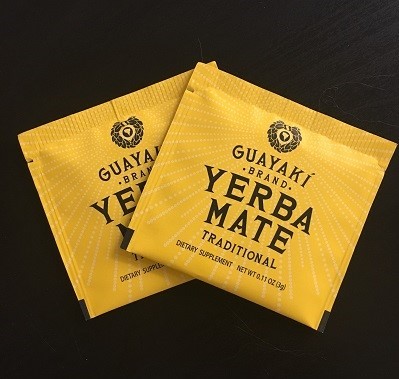 Caffeine is a surprisingly effective reward that just about everyone with ADHD loves to use.
And, there's a good reason why most people with ADHD love caffeine.
It's been shown that caffeine enhances dopamine signaling in the human brain (4). This means that high doses of caffeine work similarly to stimulant-based ADHD medications, like amphetamine and methylphenidate.
If you feel like your ADHD brain is running extra low on dopamine, try drinking a cup of yerba mate or espresso coffee for a nice boost.
Healthy reward #4. High-quality dopamine foods
Eating high-quality dopamine foods is one of the best ways to increase your dopamine levels naturally.
These foods are known to boost dopamine levels:
Organic eggs – Contains tyrosine, which boosts dopamine
Steak – Contains tyrosine, which boosts dopamine
Beets – Contains betaine, which acts as an antidepressant
Raw dark chocolate – Stimulates dopamine and serotonin production in the brain (thanks to tyrosine)
As you can probably tell, tyrosine is the main ingredient that you'll want to consume if you want to boost you dopamine levels naturally.
Spirulina contains a whopping 2046mg of tyrosine per serving, which makes spirulina the food highest in tyrosine.
You can take a closer look at the brand of spirulina that I use in my article on ADHD superfoods. I love spirulina, and use it daily.
But overall, if you can eat a varied diet that's rich in meats, fruits, and vegetables – you'll be well on your way to improving your dopamine levels in the healthiest way possible.
Healthy reward #5. Personal growth
Tracking your personal growth is one of the most productive ways to boost your dopamine and improve your life at the same time.
What counts as personal growth?
Well, first of all, you should only be comparing yourself to yourself. Comparing yourself to other people is a fast-track to failure.
When you compare your past self to your present self, this is how you gauge your progress in life.
For example, do you remember how you felt one year ago compared to today?
If you're in better health, and you have better relationships with people compared to one year ago, then you're making tremendous progress in your life.
Your personal growth primarily comes down to:
Health
Relationships
Hobbies
Spirituality
Skills (like writing or public speaking)
Time (are you getting better at using your time?)
I primarily focus on improving my health and relationships year after year, because these two things are most important to me.
But, here's the key thing to keep in mind:
When you continuously improve at any aspect of your personal life, you improve your dopamine levels, because your brain feels like it's winning (see healthy reward #2 – the winner effect).
So, how can you make sure that you're properly tracking your personal growth, and reaping all of the dopamine-boosting benefits?
You can…
Create a to-do list and a "done list" every weekday – personally I use a productivity journal like this one to manage my schedule
Create a commonplace (as mentioned in my ADHD bucket list) – and dedicate a tab to tracking your daily / weekly / yearly growth
Look at "before and after" pictures of yourself (if you're interested in health)
Get feedback from other people and monitor your results (this is really hard to do, but extremely rewarding)
You're growing in some area of your personal life, right? Everyone grows in one way or another.
The trick is to track this personal growth, and constantly remind yourself of how much awesome growth you're experiencing. Doing this will help you stay extremely motivated over the long-term.
Healthy reward #6. Professional progress
If you're in the workforce, then you're in luck.
Because, improving professionally is one of the best ways to score "big wins" for your life, and spike your dopamine levels.
For example, it's been shown that getting a promotion at work will likely increase testosterone levels, and upregulate dopaminergic activity in the striatal reward networks (9).
In other words, people who get promotions or acquire high-powered positions in the workplace tend to produce more testosterone and dopamine.
Once again, this all comes back to the winner effect.
But, what if you feel stuck in a dead-end job situation, and you feel like there's no way for you to move forward in your current career?
Well, you still have options. There are always options.
For example, you can:
Start a consulting gig or side hustle on the side, and use your existing network to get new clients for yourself
Acquire new skills that are in-demand, such as programming, marketing, or graphic design
Move to a new city and try your luck in a better economic climate
Find a better job where you have more options for upward mobility
As long as you're gaining forward momentum in your professional life, then you should be ecstatic.
Because, the reality is that progressing professionally is hard work. So, any amount of progress that you experience in your career or business should be celebrated on a daily basis. Seriously.
If you can grow professionally while dealing with ADHD at the same time – you should feel like a champion.
Healthy reward #7. Exercise
Exercise is probably the fastest and easiest way to produce more dopamine when you have ADHD.
You can go for a quick 20-minute jog around the neighborhood, and feel so much better afterwards, because of the various brain chemicals that are released while you exercise.
For example, when you exercise, your brain releases dopamine, serotonin, endorphins, BDNF, and norepinephrine. This potent chemical cocktail is what gets most people addicted to exercise.
If you've ever experienced a runner's high, then you know exactly what I'm talking about.
Best of all, because exercise improves your brain's BDNF, exercising will help your brain form new neurons, and repair damaged nerve cells (10).
So, exercising regularly will ultimately make you feel amazing and boost your long-term brain function at the same time. This is why exercising is a must for people with ADHD. It's one of the healthiest addictions that you can create for your ADHD brain.
Healthy reward #8. Intimacy
It's been shown that pair bonding (intense social attachment) stimulates the mesolimbic dopaminergic pathway (11).
This means that intimacy causes your brain to produce neurotransmitters like dopamine and oxytocin.
Yes, love is technically a drug, because your brain can easily get hooked on the happy chemicals that stem from your relationships.
This is why it's natural for humans to seek out monogamous relationships. You're born to connect deeply with someone special, grow together, and reproduce.
Some argue that the entire point of life is to procreate, and continue the cycle of life.
But, even if you aren't at a point where you're ready for marriage and children, you can still have fun in the dating pool, and experience intimate relationships that way.
Being in a great relationship can seriously help with your ADHD.
Some people with ADHD might even seek out non-ADHD partners as sort of a coping mechanism. This is completely natural and normal. Some might even call this a survival instinct in today's competitive environment.
You need every advantage that you can get! So, why not find someone who's truly your better half?
Healthy reward #9. Socializing
People who socialize often tend to live longer, healthier, and happier lives.
Studies have also shown that social affiliation is a potent stimulator of dopamine (12).
This makes sense, because it has long been known that social relationships can help people overcome diseases like depression, where dopamine levels have been shot. Socializing helps people cope with illnesses.
According to Lisa Feldman Barrett, who is the lead author of the study referenced above, believes that caring for other people might be just as helpful to your dopamine levels as receiving care (13).
Therefore, loving others and socializing frequently is most likely extremely helpful to people with ADHD.
You should make it a habit to form meaningful relationships with people, go out twice per week (I prefer Thursday and Saturday nights), and try your best to enjoy the process of socializing. There's a chance that socializing will help you stay healthy, strong, and full of dopamine.
Healthy reward #10. Transcendental Meditation
I know exactly what you're thinking…
ADHD makes it incredibly difficult to "empty your mind" and meditate.
But, practicing meditation and mindfulness is unbelievably helpful for boosting dopamine in the ADHD brain.
Plus, you don't actually have to "empty your mind" to meditate. I do Transcendental Meditation, which only requires that you focus on your breathing while you sit down.
With Transcendental Meditation, you're free to fidget if you need to. You're also free to let thoughts enter and exit your mind. As long as you focus on your breathing, you'll be perfectly fine.
Meditation has been shown to increase endogenous dopamine release, improve concentration levels, combat stress, and provide so many other health benefits (14).
The secret "healing power" of meditation seems to involve the change in consciousness that you experience while meditating (15).
Once you get good at it, meditating begins to feel like taking a small vacation every time you do it. Meditating is that powerful.
The 3 most common negative rewards that people with ADHD need to avoid
I hope you received some great inspiration from the above list of healthy rewards for people with ADHD.
But now, let's briefly cover the negative rewards (bad sources of dopamine) that people with ADHD need to avoid.
It's usually best to eliminate the bad sources of dopamine from your life (like excessive sweets) before seeking healthy sources of dopamine (like eating healthy dopamine foods). This just makes sense, right?
The truth is that we live in a luxurious era of convenience to where it's extremely easy to obtain all kinds of negative rewards and guilty pleasures.
There are hundreds or even thousands of negative rewards that temporarily make your ADHD brain feel amazing. But, abusing these negative rewards will make your life incredibly more challenging over the long-term.
Here are the 3 most common negative rewards that you should avoid…
Common negative reward #1. Sweets
By now, most people realize that eating sugar causes your brain to release dopamine (16).
But, most people with ADHD don't really think about just how much sugar they consume. For reference, the average American consumes about 82 grams of added sugar per day (17).
There is also some evidence that suggests sugar addiction is a real thing to be concerned about (18).
The problem with using sugar as a reward is that more than 100 million Americans are prediabetic or have diabetes (19).
If you have ADHD, then you have enough challenges to deal with. You do NOT need to add diabetes or disease into the mix.
Avoid consuming sugar as often as possible. A little bit of sugar is no big deal. Just avoid overindulging to play it safe.
Common negative reward #2. Television
Not all TV is bad. I like to watch the History Channel and National Geographic now and again.
Problems happen when you start binge-watching drama-fueled TV channels like E! and A&E. Some shows on A&E are really addictive. They know how to hook you with a really good TV show.
But, the point is that if you're using TV as your primary source of dopamine, then you're going to have problems, because TV isn't going to leave you feeling fulfilled in life.
From The Journal of Cognitive Liberties:
First of all, when you're watching television the higher brain regions (like the midbrain and the neo-cortex) are shut down, and most activity shifts to the lower brain regions (like the limbic system). The neurological processes that take place in these regions cannot accurately be called "cognitive." The lower or reptile brain simply stands poised to react to the environment using deeply embedded "fight or flight" response programs. Moreover, these lower brain regions cannot distinguish reality from fabricated images (a job performed by the neo-cortex), so they react to television content as though it were real, releasing appropriate hormones and so on. Studies have proven that, in the long run, too much activity in the lower brain leads to atrophy in the higher brain regions.
Watching too much television shuts down your higher brain regions, and literally causes you to believe that what you see on TV is real.
When you try telling that to someone who watches too much TV, they typically won't believe you.
Take that for what it's worth.
Common negative reward #3. Social media addiction
Social media is an amazing invention that I truly love, because social platforms allow people to share information from anywhere in the world.
I've learned many beautiful things thanks to Twitter, Pinterest, and Facebook (in that order).
But, as you may know, you have to be careful about how you use social media, because social media triggers a powerful dopamine high (21).
If your brain feels like it's constantly being "rewarded" as a result of using social media, then you may be tricking yourself into thinking that you're being productive.
I occasionally catch myself getting "lost" on Instagram or Reddit, and it's a real problem when this happens. You don't always realize how many hours slip away while you're using social media.
Avoid getting sucked into social media addiction for your personal health and well-being. Just use social media to learn, grow, and connect with amazing people, and you'll be golden.
The truth about using ADHD medication to boost dopamine levels
ADHD medication is an extremely valuable tool for instantly restoring dopamine levels in the ADHD brain. It's safe to say that taking ADHD medication is the most reliable (and proven) method for producing dopamine in the ADHD brain.
Using a therapeutic dose of ADHD medication is effective because stimulant-based ADHD medications (like Adderall) stimulate dopamine production.
However, some ADHD medications like methylphenidate (Ritalin) serve as a dopamine reuptake inhibitor, which affects people with ADHD slightly differently (22).
Most people with ADHD respond positively to ADHD medication, because it feels really good to produce dopamine in an efficient and consistent way. You'll instantly feel a difference in your quality of life if you decide to go the route of using ADHD medication.
I tried every possible option before using ADHD medication. And, ADHD medication worked extremely well for me.
If you respond well to stimulant-based ADHD medications, then you can always consider using an ADHD drug like Vyvanse, Adderall XR, or Concerta.
Of course, if ADHD medication doesn't work well for you, then that's perfectly fine too. Not everyone will respond well to using ADHD medication.
You and your physician should discuss the possibility of using ADHD medication if that's something you're interested in.
At the end of the day, I'm a fan of using natural and conventional (medication-based) therapies for ADHD. This way, you get to have the best of both worlds.
Not all healthy rewards will lead to immediate dopamine production
Dopamine is one of the most important chemicals that your brain produces. It's responsible for your motivation and reward-seeking behavior.
But, when you have ADHD, your brain doesn't produce enough dopamine.
This requires you to take action, and come up with effective solutions for your life.
Luckily, you have plenty of options for boosting your brain's dopamine levels naturally, or through the use of drug-based therapies.
It's going to be up to you to seize the opportunities in front of you.
With just a little bit of effort, you can solve most of your dopamine-related problems, and live the type of lifestyle that you deserve to experience.