Published on: November 29th, 2019
In this article, you're going to learn how to enter a an upward spiral of success with ADHD, and potentially change your life forever…
Entering an upward spiral of success is also known as entering a "Winner Effect."
Most importantly, you're also going to learn how to survive the "desert of desertion" which is a bleak and potentially dreadful period of time that can easily sabotage your success.
Today's article exposes some of the most important concepts to understand and implement for achieving your long-term life vision and enjoying lasting success and freedom with ADHD.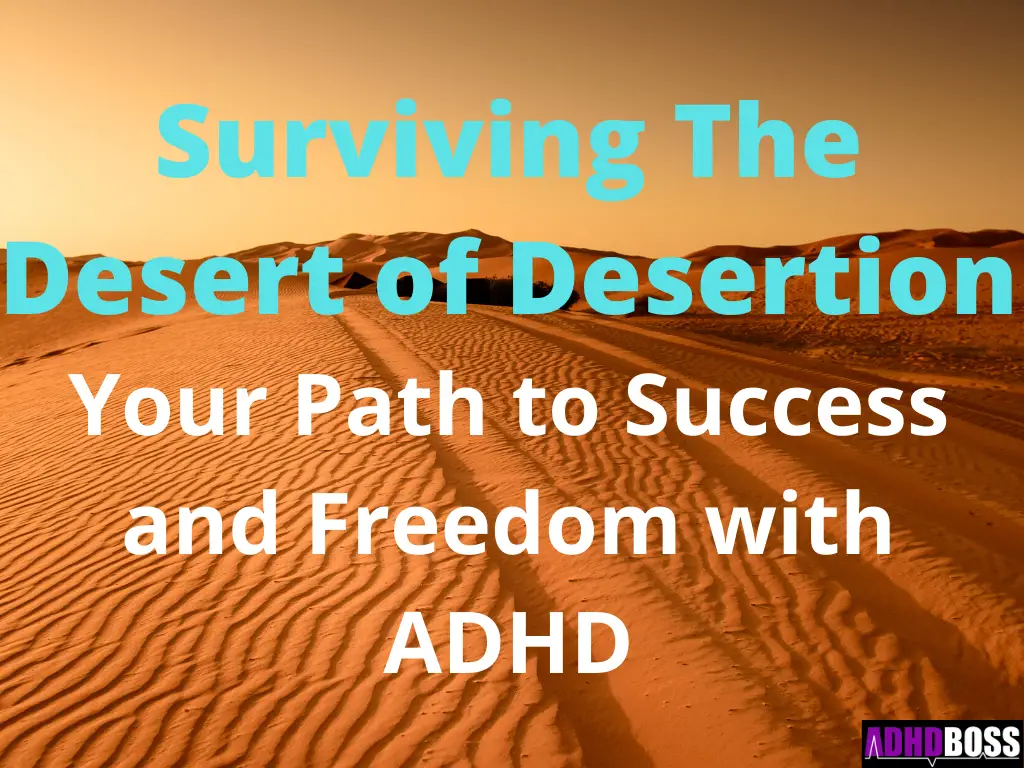 Let's get started…
What is "The Winner Effect" and why is it important?
The Winner Effect is a biological phenomenon that has been observed in nature.
In the wild, after an animal has won a few fights, this same animal is more likely to win fights against new opponents.
Ian Robertson is the author of the book The Winner Effect, in which he investigated the act of winning from a neuroscience perspective.
The Winner Effect is a valuable phenomenon to understand because it's entirely applicable to the lives of people with ADHD.
In my own life, I noticed that once I'd published about 70 blog posts on ADHDBoss.com, my readership started to grow like crazy, and I felt pretty much unstoppable.
After publishing roughly 70 blog posts on ADHD Boss, I was finally able to work on my website full-time, travel the world, and dedicate myself to ADHD research, personal growth and adventure.
I had finally entered my first significant Winner Effect which reinforced more and more winning.
For example, after publishing 70 blog posts on ADHD Boss, every new blog post that I published after this point attracted new readers to my website at an exponential growth rate.
In life, when you persevere at something that's extremely rewarding to you, you're probably going to experience exponential growth.
Exponential growth means you'll have to exert a tremendous amount of energy without experiencing any positive results for a long period of time (more on this later).
But one day, you will wake up and realize you experienced an enormous positive gain seemingly out of nowhere. 
This is why it's so important that you're able to commit to a single vision for your life over the long-term…
Exponential growth vs. linear growth
Due to exponential growth, the greatest rewards typically come much, much later in life, after an enormous amount of energy has been exerted.
Linear growth is the opposite of exponential growth.
Linear growth means that you experience slow and steady growth at a moderate rate.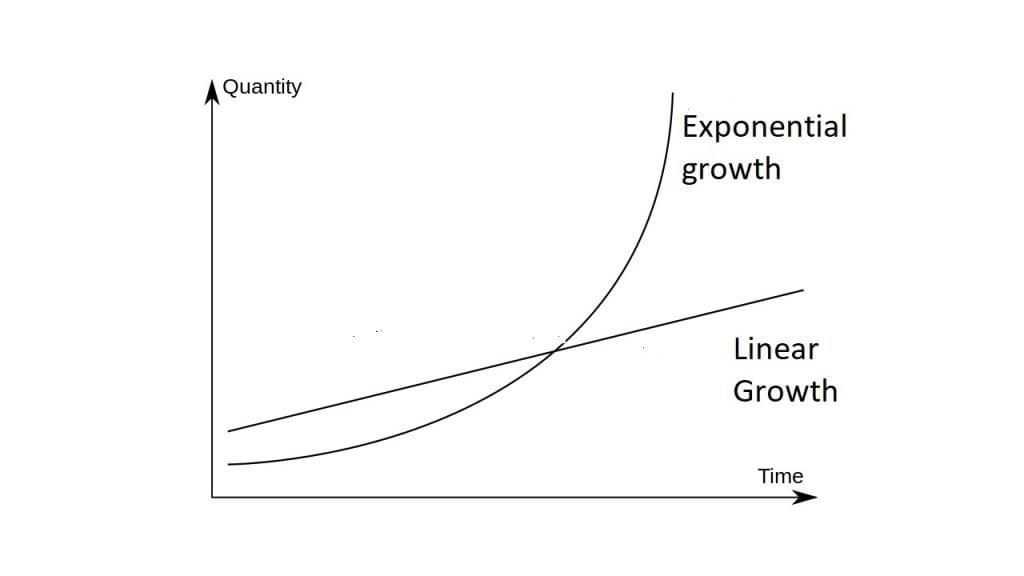 In the image above, you can see how linear growth compares with exponential growth.
Linear growth is not a great model for how you should expect your life to progress.
This is because you can't always count on linear growth. 
During the early days of building ADHD Boss, I went through a painfully long period of time called "the desert of desertion" where I had very few readers, very little growth, and very little success.
I had to accept an enormous amount of mental pain (pre-Winner Effect) while publishing my first 70 blog posts, because I wasn't getting much positive feedback or rewards in exchange for my energy exertion.
I had to delay gratification for about 9 months.
After publishing 70 blog posts, my website started to experience huge spikes in web traffic growth, and I finally entered The Winner Effect.
In life, the key is to experience your first Winner Effect as soon as possible, so that you can enter an upward spiral of success within the next 6 to 18 months of your life.
In modern day life, people have been conditioned to constantly seek out dopamine spikes and instant gratification, which is a form of linear growth.
People generally want immediate rewards and immediate benefits right now.
This is why winning mostly comes down to surviving the long and painful period that comes before experiencing a big, unexpected growth spurt through exponential growth.
This long and painful period is called the desert of desertion, which is a term I'm borrowing from one of my favorite authors, MJ DeMarco.
The desert of desertion is a period of your life which feels extremely bleak, with lots of stagnation, emptiness and seemingly no rewards in sight
The desert of desertion can be an extremely painful period of time in your life.
But, the desert of desertion is 100% necessary for achieving lasting freedom and success with ADHD.
The most uncomfortable aspect of the desert of desertion is that it's really difficult to determine when you're going to see the light at the end of the tunnel.
As the old saying goes, the light at the end of the tunnel appears the moment after most people give up.
Nature rewards people who can persist through intense mental pain and suffering in the short-term (6 to 18 months) for a worthy cause. 
If you're going through a difficult time in life, but you can sense that you're heading in the right direction, you should persist at whatever you're doing for at least 6 to 18 months before you even think about giving up.
It often takes at least 6 to 18 months before you get to experience any significant rewards or gratification from the energy you've expended.
Article Action Steps:
Make a quick note of the last time you "failed" at something, and the approximate amount of energy and/or time that was committed to persevering through the desert of desertion
Make a note of the last time you "won" at something, and the approximate amount of energy and/or time that was committed to that objective
Understand that it usually takes at least 6 to 18 months of focused energy and effort before you're able to defeat the desert of desertion, and enter an upward spiral of success (The Winner Effect)
​Start practicing the concept of delaying gratification today, so that you can enjoy a significantly higher quality of life 6 to 18 months from now