Last updated on: December 23rd, 2019 ~
Humans are a complicated bunch. We're the most advanced animal on this planet. We have the ability to form interpersonal relationships, casually chat with strangers, acquire a formal education, and work a career.
Have you ever thought about how crazy all of this actually is? Life as a human is absolutely amazing. But, it can also be depressing at times…
Because, all humans are plagued by bad memories that are tucked away deep in the subconscious mind. Whether you realize it or not – your most painful memories (which might not even be "real") probably still haunt you to this day.
So, this article shows you how to eliminate bad memories from your life using 5 relatively simple tricks. Let's get started…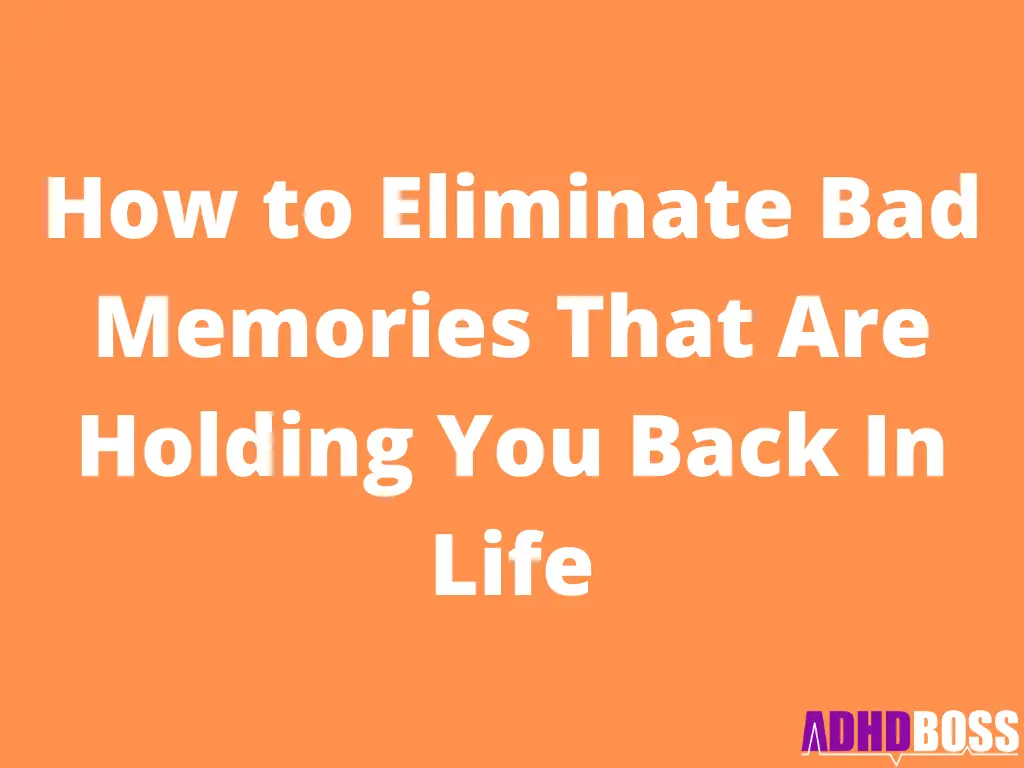 Trick 1. Process your bad memories individually (recommended)
The best things in life require consistent work and effort.
So, it only makes sense that the best way to eliminate bad memories involves a bit of mental pain and discomfort.
Please don't get scared away by this. Because, processing your bad memories individually is the ideal way to overcome your embarrassing moments, traumatic life experiences, or any other negative recollections that might be harming your quality of life.
To process your bad memories individually, you'll simply need to wait for a moment when you feel a "trigger" or bad memory come to surface.
Once you feel a bad memory come to surface – you'll want to experience that bad memory like you're going through it all over again. Take your time to absorb the bad memory, experience all of the negative emotions, and process the mental pain.
Yes – this will be extremely difficult to do. But, once you're able to fully process your bad memory, you'll suddenly feel more "free" or "relieved" afterwards.
This probably happens because your bad memories are intertwined with strong negative emotions. But, once you begin to "process" your bad memories/emotions, and absorb the pain that comes with them, you essentially tell your brain that you're stronger than these negative past experiences.
This is like rewiring your brain to associate bad memories with neutral or positive emotions rather than negative emotions.
Because after all – if you can overcome your bad memories, you will become a more resilient human being. You can associate your bad memories with positive or productive emotions. Doing this will absolutely change your life for the best.
Trick 2. Convince yourself that your bad memories never even happened (easiest solution)
If you don't want to take the time to process bad memories individually, then your next best option is probably going to involve brainwashing yourself in a positive way.
Because, the truth is that most people tend to exaggerate their bad memories.
You might have a bad memory that absolutely haunts you from your perspective. But, from the perspective of other people, your bad memory might not even be that big of a deal!
So, why not convince yourself that your bad memories don't even exist? This trick absolutely works for many people, and it can work for you too…
To convince yourself that your bad memories never even happened – just tell yourself that your bad memories aren't even real as soon as they come to surface.
If you tell yourself that your bad memories aren't even real for long enough – you'll inevitably start to believe yourself.
This is a way of practicing positive self-talk.
If you can train your brain to think positively no matter the circumstances – you will think, feel and act with more confidence.
Eliminating your bad memories regardless of what it takes will "clear out" your subconscious mind, and enable you to navigate life more freely.
Trick 3. Create new memories
Forming new memories is one of the most fun and productive ways to eliminate bad memories.
As a human being, your memory capacity is quite large. This means that you have the ability to create a bunch of memories over the course of a lifetime.
But, you probably aren't going to be able to recall every single memory that you have. Humans are quite forgetful…
So, here's the point:
If you spend the majority of your free time creating new memories – your bad memories will start to feel less and less relevant.
To create positive memories that help to eradicate bad memories, you can always…
Pick up a new hobby like tennis, hiking or painting
Immerse yourself in a new culture
Do anything that's novel or exciting
The good part about creating new memories is that it isn't an expensive or time-consuming process.
You can attend a life-changing music festival for a few hundred bucks. Or, you can take a road trip with friends over the course of a weekend.
By forming positive new memories, you will inevitably push out bad memories from your subconscious, and begin to focus on the exciting new memories that you create.
Trick 4. Shift your focus to the present moment
I always find myself feeling most anxious when I get too caught up thinking about what the future holds, or worrying about my past mistakes.
If you're constantly worrying about a time that doesn't exist (i.e. the future or the past) then you're only making things worse for yourself by wasting more time.
Think hard about the fact that the past is just a memory that's tucked away in your subconscious mind. And, the future doesn't even exist.
When people say that "now is the only time that matters" – this isn't just a cliche. It's the truth.
"Now" is literally the only thing that matters because it's the only point in time that truly exists.
So, you should try your best to spend more time focusing on the present moment. You can become more "present to the moment" by meditating, exercising, performing deep breathing exercises, and generally taking control of your anxiety.
Shift your focus to the present moment, and you won't even have time to think about bad memories.
Trick 5. Keep building psychological resilience
Building psychological resilience is a long-term process.
But, it's a process that anyone can use to overcome bad memories, and persevere through many negative aspects of life in general.
Here's a quick definition of psychological resilience from Wikipedia:
Psychological resilience is defined as an individual's ability to successfully adapt to life tasks in the face of social disadvantage or highly adverse conditions. Adversity and stress can come in the shape of family or relationship problems, health problems, or workplace and financial worries, among others. Resilience is one's ability to bounce back from a negative experience with "competent functioning". Resilience is not a rare ability; in reality, it is found in the average individual and it can be learned and developed by virtually anyone. Resilience should be considered a process, rather than a trait to be had. It is a process of individuation through a structured system with gradual discovery of personal and unique abilities.
The key point in this definition is that resilience is not a rare ability. Anyone can develop more resilience in their life.
It's also worth noting that people with anxiety are especially strong candidates for developing psychological resilience – because of the many embarrassing moments, sudden freeze-ups, panic attacks and negative life experiences that we've already had to endure.
We've already overcome so many difficulties in life. So, why not become even more psychologically resilient?
To develop greater psychological resilience, I recommend reading more about stoicism, Buddhism, or any other form of philosophy/spirituality that forces you to confront life's unique challenges.
And most importantly – have faith in yourself.
As a human, you have the amazing ability to recover from the most horrific life experiences.
Bad memories are often one of those negative aspects of life that simply needs to be addressed and conquered.