Last updated: November 27th, 2019 
This article lists my 7 ADHD sleep tactics that will help you get significantly better sleep with ADHD.
What you're about to read is extremely important, because getting sleep with ADHD is an issue for millions people.
It's a frustrating problem that's usually made even worse because of modern-day complications like work, family, relationships, health, money and so many other issues.
So, I want you to know about what's personally worked for me.
These are my seven tricks for overcoming sleep problems with ADHD:
Trick 1. Exercise in the early evening
Doing exercise in the early evening is a great way to deplete your energy before bedtime.
The reason for exercising in the early evening (say around 5 p.m.) as opposed to working out late at night is because exercising temporarily energizes you, then burns you out.
And, two of the most energy-draining exercises that I know are squats and stair steppers. But, any intensive exercise will do. You can run, lift weights, do crunches, or even use kettlebells!
If you think that you're going to have trouble sleeping, I highly recommend that you do any form of intense exercise well before bedtime.
If your workout is rigorous, you'll practically pass out as soon as you hit the bed.
Trick 2. Take Magnesium Citramate
I rave a lot about Magnesium Citramate (Amazon) on this website because it has literally changed the way I sleep.
Since taking Magnesium Citramate, I fall asleep faster, and get much deeper sleep, on a more consistent schedule.
I recommend using Magnesium Citramate over the many other, low-quality forms of magnesium (such as magnesium oxide) because Magnesium Citramate absorbs well in your body.
Using a high-quality form of magnesium like Magnesium Citramate is highly-effective for getting powerful sleep with ADHD.
Trick 3. Listen to binaural beats

Listening to binaural beats with ADHD is amazing for getting in a sleepy mood as fast as possible.
You can search YouTube for many more binaural beats, and listen to them before you sleep.
Binaural beats help to mentally prepare you for sleep, and best of all, they're totally free.
I do recommend getting a nice pair of headphones like the Sennheiser HD 280 Pro (Amazon) to listen to your binaural beats, though.
Listening to binaural beats with a nice pair of headphones will enable you to pick up on the subtle bass frequencies of the beats, which is what makes binaural beats so effective in the first place.
Trick 4. Use True Calm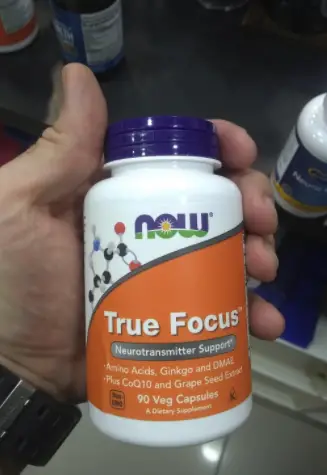 Now Foods True Focus (Amazon) is an amino relaxer supplement that I recommend taking a couple times per week (previously "True Calm").
You may want to use True Calm occasionally, when your ADHD is making you feel especially restless or anxious.
This supplement is ultimately great for helping some people with ADHD sleep.
Whenever I take a capsule of True Calm, I feel a little bit 'light' and 'floaty' for a couple hours. But, True Calm can also make you feel a little bit drowsy once you wake up. So, I recommend that you use True Calm a few nights per week only.
I usually take a capsule of the stuff before reading a book, watching a movie or just chilling out.
It's also important to know that True Calm contains GABA. So, if you're already on medication, make sure to consult with a doctor before trying True Calm.
Trick 5. Read your Kindle Fire
While I still love to read a great paperback book, using a Kindle Fire HD 10 (Amazon) has motivated me to read in bed more often because of its 'Blue Shade' feature.
This means you can use a Kindle Fire to read an ebook in bed, with your bedroom lights off, and still fall asleep rather quickly.
Plus, you can also use your Kindle to surf the web, tweet at me on Twitter, or listen to music.
The Kindle Fire is relatively budget-friendly, fun and great for accessing bedtime entertainment that won't keep you awake at night.
Trick 6. Raw apple cider vinegar mixed with raw honey
If you take ADHD medication like Vyvanse or Adderall, there's a decent chance that you could still have stimulants in your system at bedtime. This tends to happen because some ADHD medications have a long half-life, and can keep you awake at night.
One thing that I like to do to flush ADHD medication out of my system is take a shot of raw apple cider vinegar (Amazon) at bedtime.
I actually keep a bottle of raw apple cider vinegar in my bathroom so that I can just take a small swig of the stuff before brushing my teeth.
It's thought that acidic foods and beverages diminish the effectiveness of some ADHD medications. So, taking a shot of raw apple cider vinegar is a great way to rid your body of stimulants before you go to sleep.
However, if you also decide to take a teaspoon of raw honey after taking down your raw apple cider vinegar – something about the combination of apple cider vinegar and honey truly helps you sleep.
I don't know exactly why this works. But, it's long been known that people experience surprisingly great sleep after ingesting apple cider vinegar and honey.
Raw apple cider vinegar and honey are both also very healthy. Together, these ingredients benefit your immune system, weight loss, sleeping habits and a lot more.
Trick 7. Use melatonin as your nuclear nighttime option
I normally don't like to recommend melatonin as an ADHD sleep solution, because melatonin isn't supposed to be used as a regular sleep solution at all.
But, I'd be lying if I said that I don't occasionally use melatonin. Because, the truth is that melatonin can be great for helping you sleep like a baby when you need it most.
Melatonin is released naturally in the body. But, you can supplement with melatonin as well.
I recommend using Source Naturals 1mg sublingual melatonin tablets (Amazon).
The 1mg strength of these tablets is perfect for getting a light dose of melatonin, which should help you get a great night of sleep, without making you feel drowsy in the morning.
Plus, using sublingual tablets mean that you can let the tablets dissolve under your tongue. There's no need to swallow the tablets whole. They also taste like oranges.
The 7 best ADHD sleep tactics conclusion
Getting good sleep is essential for living a good life with ADHD.
But, ironically, having ADHD makes going to bed difficult at times.
So, making the most of your sleep is one of the best decisions that you can make. It's hard to do. I know. But, getting good sleep with ADHD is absolutely worth it. Especially for your long-term health and well-being.
By using my 7 tactics for getting amazing sleep with ADHD, I strongly believe that you can get unbelievably good sleep regardless of how stubborn and sleep-defying your ADHD may be.