Last updated: November 27th, 2019 
While there's nothing wrong with using an ADHD medication that works well for your mind and body, it's good to keep in mind that there are some great alternatives available.
In fact, I don't use ADHD medication to treat my ADHD symptoms all that much anymore.
Instead, I take advantage of these 10 best ADHD medication alternatives that actually work in 2020.
Why use ADHD medication alternatives?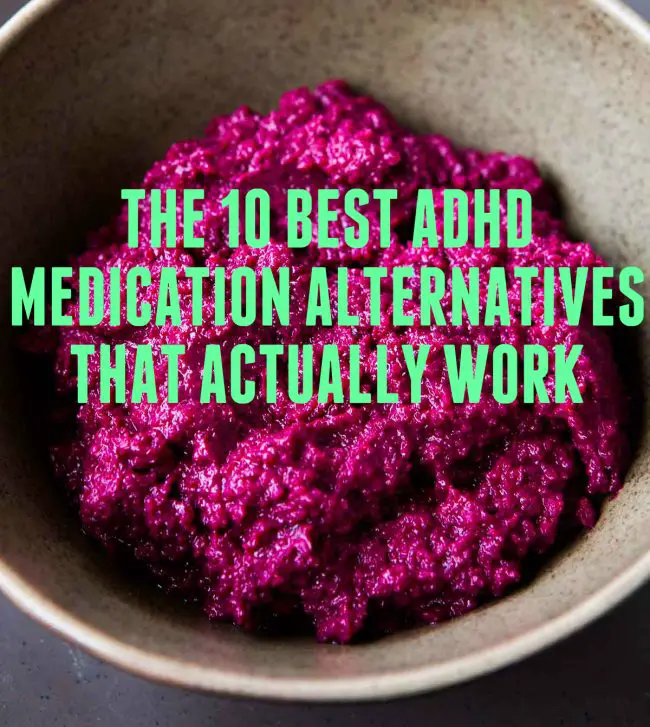 There are a number of reasons why you might want to try alternatives to ADHD medication. For example…
Your health insurance might not cover the full costs of your ADHD medication
You're worried about the long-term side effects of ADHD medication
You know that you have an addictive personality
You'd simply prefer to take a holistic approach to treating ADHD symptoms
Regardless of your exact reasoning for wanting to take the natural route to treating ADHD, you're in good company.
What are the best ADHD medication alternatives to take?
I fully support anyone who wants to try alternatives to ADHD medication. At this stage of my life, I take a mostly holistic approach to treating ADHD symptoms.
Over the course of my short lifetime, I've tried hundreds of cognitive enhancers, ADHD herbs and spices, nootropics, supplements, drinks, and other goodies.
So, when it comes to ADHD supplements and remedies, I have a pretty good idea of what works and what doesn't.
Out of everything that I've tried, these are the top 10 ADHD medication alternatives that I personally use and recommend…
1. NAC Sustain
This supplement is an ideal ADHD medication alternative.
NAC Sustain (BulkSupplements) contains a 'mega dose' of the amino acid L-cysteine. This amino acid is considered to be an precursor to glutathione. So, to put it simply, NAC Sustain is a mega antioxidant that can help to rid your body of free radicals. It cleanses your liver, helps you breathe better, and has a surprising effect on your level of anxiety.
Surprisingly, there seems to be an interesting connection between your liver and how your brain functions, which is still being researched to this day. The brain-liver relationship isn't totally understood yet. But, the connection is extremely interesting.
Could it be that NAC Sustain cleanses your liver, which helps your brain feel more calm and relaxed, and ultimately helps to fight ADHD symptoms?
Speaking from personal experience, I don't think that's so far-fetched. NAG Sustain has had a seriously positive impact on my level of anxiety, ADHD, and overall well-being.
Try taking NAC Sustain a few times per week at first. Don't go overboard with the stuff, because a little bit goes a long way.
2. True Calm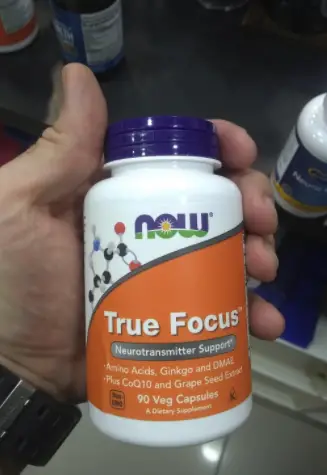 True Focus (Amazon) (formerly True Calm) is an awesome supplement that I usually take a few hours before going to bed, watching a movie, or doing anything that involves needing to relax.
The supplement contains a blend of GABA, vitamin b-6, taurine, valerian, and a few other amino acids. True Calm essentially plays on your neurotransmitters, and helps you mentally unwind after a stressful day.
It's a perfect treat after a long day of work, or for using right before you go to bed.
3. Complete B-Complex Vitamin
While there are plenty of b-complex multivitamin supplements on the market, I like this B-Complex supplement from Rainbow Light (Amazon) because it's cost-effective, made from real food-based ingredients, and is a high-quality supplement in general.
As you can probably already tell, the ADHD brain is a little bit wacky at times. So, I know from first-hand experience that using b vitamins is basically a necessity.
Taking a good b complex supplement will give you energy, stabilize your mood, and help you experience greater mental clarity. Plus, when you pair a b complex multivitamin with a lot of coffee or green tea, it feels almost as good as taking an ADHD medication.
4. Raw Turmeric Powder
Organic raw turmeric powder (Amazon) is an anti-inflammatory spice that's been used in India and other parts of Asia for thousands of years.
This organic superfood is used to fight against disease, help the liver heal, and lower oxidative stress in the brain. It's also used to treat many other ailments.
Most importantly for people with ADHD, using turmeric may reduce inflammation in the brain, which is thought to relieve some ADHD symptoms.
I personally take turmeric everyday for its general health benefits. And, I love that it potentially helps to treat ADHD symptoms as well.
5. Organic Maca Root Powder
While Organic Maca Root Powder (Amazon) is by far the worst-tasting supplement on this list, it's also one of the most effective natural powders in the world for helping people with ADHD.
I usually take organic maca root powder before working out, taking care of work, or do anything else that requires a sudden boost of energy. Organic maca powder actually gives me an intense pump that's even better than most energy drinks.
People with ADHD can also benefit from taking maca root powder to study, concentrate during the day, or take care of boring tasks around the house. This supplement makes life more interesting.
6. Rainbow Light Probiotic
If you already eat a lot of yogurt and vegetables, then you might not need to take a probiotic supplement.
But, if you have trouble remembering to take good care of your gut, then using a probiotic like Rainbow Light ProbioActive (Amazon) could absolutely change your life for the best.
People are usually shocked to find out that their mood is influenced by gut health.
Yep, it's true.
By using a probiotic to take care of your gut, you'll think more clearly, feel better, and enjoy a more positive outlook on life. This is perfect for people with ADHD.
7. Vitamin D
When I was first prescribed Vyvanse, I had my blood work done at the same time. When the results came in, my doctor told me that I was low in vitamin D.
And, when I found out that I was low in vitamin D, I started to take a good vitamin D supplement, and I felt better almost immediately.
I recommend getting your blood work done if you haven't done so in a while. Because, if you're like most people, then odds are strong that you're probably experiencing a vitamin D deficiency as well.
By the way, I use Rainbow Light Sunny Gummies Vitamin D (Amazon) because this supplement tastes good, and comes in a low 'strength' form of vitamin d3 (1000 IUs). I like this low-strength form of vitamin d3, because taking too much vitamin D can actually make you feel worse.
If you prefer taking 'stronger' vitamin D, there are similar vitamin d3 supplements from Pure Encapsulations (Amazon) that work well too.
8. Liquid Fish Oil
Fish oil is a classic ingredient for managing ADHD that often goes overlooked.
The reality is that if you don't live on the coast, or if you don't eat a lot of seafood in general, then you probably aren't getting enough omega-3 fatty acids in your diet.
Omega-3 fatty acids are excellent for helping you think more clearly, improving your mood, and even fighting against diseases like Alzheimer's.
Yes, there are some massive mental benefits that come with taking fish oil. So, it's pretty easy to understand why taking fish oil can be great for ADHD symptoms.
I prefer Nordic Naturals Liquid Fish Oil (Amazon) because it comes from quality fish, tastes good, and doesn't require you to choke down yet another capsule.
9. Magnesium Citramate
Magnesium is a must for people with ADHD. Taking magnesium is known to help people with ADHD enhance brain function, improve the cardiovascular system, and sleep better at night.
The truth is that most people with ADHD take magnesium to feel more mentally calm, which can make it easier to function in social situations, and sleep well at night.
However, the type of magnesium that you take is important too…
This is why I recommend taking Magnesium Citramate (Amazon) or magnesium citrate. These types of magnesium are easily absorbed in the body, and give you results that you can feel almost instantly.
10. Yerba Mate
Yerba mate is a type of tea that's been used throughout South America for centuries.
It's one of my favorite teas because it's calming, stimulating and tasty all at the same time (like an all-in-one solution for ADHD).
I like to use Guyaki Brand Yerba Mate Tea Bags (Amazon) for convenience sake.
But, if you like to brew loose leaf tea (in the traditional style), there's also a Loose Leaf Yerba Mate (Amazon) option available for you too.
ADHD Medication Alternatives Conclusion
These are the 10 natural products that I now live by, ever since I began limiting my intake of ADHD medication.
Like I mentioned before, there's absolutely nothing wrong with taking high-quality medication for ADHD.
In fact, I still occasionally take ADHD medication for busy workdays, and for taking care of difficult tasks where I need superhuman focus.
But most of the time, I rely on the natural supplements, herbs, spices and other ingredients listed in this article to go about my daily life.
And I'm perfectly happy and healthy to do so…
But, best of all, I truly believe that you can live a more fun, interesting and fulfilling lifestyle when you supplement with these medication alternatives too.
Because, if you really want to, you can effectively treat ADHD naturally. Don't let anyone tell you otherwise.